Caramel Pecan Cinnamon Rolls (Bread Machine Recipe)
Konejita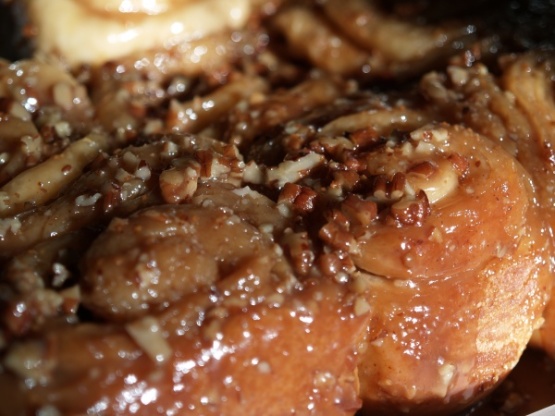 I adapted a couple of recipes into this one, and these are fabulous!

These are the best caramel rolls i have ever tasted! I made them exactly as stated except no pecans (picky kids). I made 16 rolls and divided the caramel into 2 - 9 x 13 pans (greased) and put 8 rolls in each pan. They had lots of room to puff and came out deliciously light & fluffy! I also have never tried using milk instead of butter for the filling, but as Hazeleyes says, it worked beautifully.
Rolls:
Place ingredients in machine following the specifications of that particular machine. Set for dough cycle. If bread machine seems to be working too hard to mix dough, sometimes I add 1 - 2 Tbls vegetable oil to get it moving better.
After complete on dough cycle, remove from machine and roll out to about 17x10" rectangle. The larger you roll the rectangle, the more layers you have, which is really nice.
Caramel Pecan Topping:.
Mix butter, brown sugar and water together in a small saucepan, heat on low until butter is melted.
Increase heat to medium and boil, stirring constantly, for 3 minutes.
Stir in vanilla and remove from heat.
Pour into cake pan, then place pecan halves over the caramel.
Filling:
Mix together brown sugar, pecans and cinnamon.
Moisten the dough by brushing with milk.
Sprinkle brown sugar, pecan and cinnamon mixture over top.
Roll tightly from long end, pinching edges closed when completely rolled (sometimes putting a little milk on the edge helps seal it).
Slice rolled dough into 1/2" slices (or larger if a larger bun is preferred).
Place into pan on top of caramel.
Let rise until doubled (about an hour, or quicker if you put the pan on a heating pad).
Bake at 350° for 20 minutes, until golden. Do not overbake.
Invert onto a cookie sheet immediately, before caramel hardens.