Caponata ' Eggplant and Lots of Good Things!
Rita1652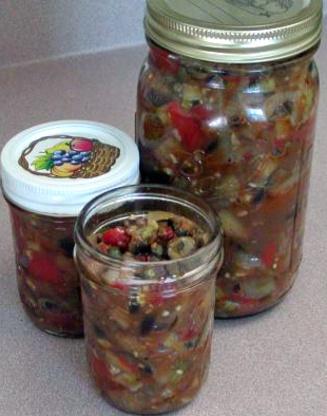 This I've been making for years and it 's never ever the same. This year I used balsamic vinegar and sundried tomatoes which brings the basic caponata up to date with our changing tastes. This if your are not familiar with this appetizer (relish) dip or spread it 's salty, sweet, tangy has lots of texture from celery, eggplant,onions, garlic, olive, capers, and pine nuts. This is very complex! Serve it on fresh Italian sliced bread or crackers or as a relish on a sandwich. You can even toss it into a small pasta to make a pasta salad. Check out Caponata Pasta Salad. In years gone buy I did can in boiling water bath for 10 minutes.I like to jar and give as gifts.

Thank you, Rita! Apologizing for not rating your recipe for several years. Every time I see eggplant in the market, I do a mental calculation of how many bags of it I have in my freezer. You see, I use it for a 'cooking" sauce for fish filets and chicken breasts. It freezes well. I've also used it with pasta as a salad. Even when on a diet, I figured how to make this without olive oil and the results are nearly the same when baked on mild fish or chicken. Really jazzes up a dish. Many ears ago I found the canned commercial variety which is really more like an appetizer spread and loved it. This recipe is much looser than the canned variety and thus more versatle. Love you for posting this recipe.
In a large hot pan heat oil and stir fry eggplant till golden brown about 10 minutes add celery, onions, garlic, and tomatoes cook till tender about 5 minutes.
Add remaining ingredients and simmer for 15 minutes.
Stirring occasionally!
Jar or place in a sealed container and refrigerate over night.
Serve cooled.
Season with salt and pepper if needed.