Kat C.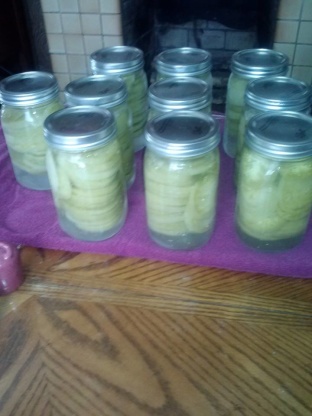 This is my MIL recipe. It's very good, and a good way to use those left over green tomatoes at the end of summer. It's so nice to open a jar and make fried green tomatoes!

Ok so I was hoping this would work for fried greenn tomatoes but it didnt, the tomatoes were to soft and had no flavor (except for a salty taste). It did however work for green tomato bars. I was hoping this would work :( maybe I did something wrong? followed recipe exactly... I will try again this year as I have planted different varieties of tomatoes. UPDATE>>>> It turns out that the first jar was mushy because the tomatoes were not green enough (we had alot that were just starting to turn)... we decided to try it again and after going thru the next jar we discovered that the ones that were really green upon canning held up nicely, we decided to fry them and it worked! I am sorry the first jar didnt turn out but I know now to only use GREEN tomatoes! not any that are starting to soften!. we will make these again.
Slice green tomatoes into pint jars.
Add 1/2 teaspoon salt to each jar.
Cover with boiling water.
Put lids on and put in water bath canner.
Bring to boil and boil for 5 minutes.
Remove from canner, tighten caps and cool on counter top.
Can also use quart jars, adding 1 teaspoon salt.