Canned Chunky Tomato and Vegetable Sauce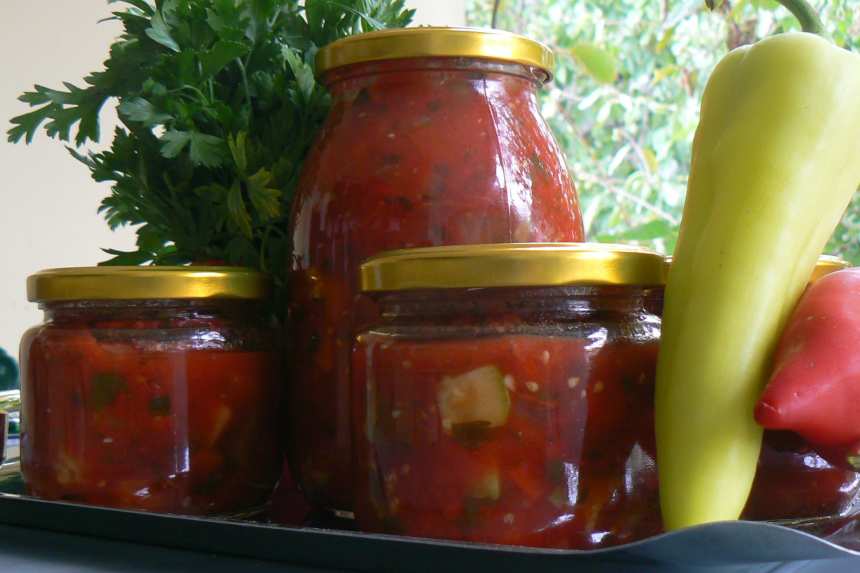 photo by joanna_giselle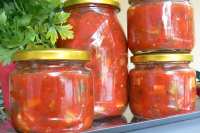 Ready In:

2hrs 10mins

Ingredients:

10
directions
Place 9 x 370ml jars with a wide neck in the dishwasher and wash at 65-70 C (around 149 F). Don't wash the lids in the dishwasher if they are new, just wash with hot soapy water.
Meanwhile, wash all the tomatoes and peppers and scrape the zucchini lightly leaving some colour.
Peel and chop the onion and peel and mince the garlic.
Chop the tomatoes, peppers and zucchini into small chunks depending how chunky you want your sauce.
Throw everything into a large stock pot and bring to the boil stirring every now and then so that you don't get any pieces stuck on the bottom. Once the tomatoes start to cook, the juices are released and you don't need to stir.
Add the salt and remaining spices and allow mixture to boil over medium heat for about one hour.
When the mixture has thickened to your liking turn off the heat but leave the sauce on the hotplate. It must not cool down.
Dry the washed jars and their lids. The jars should still be slightly warm from the dishwasher.
Fill each jar to just under the brim and seal carefully. Immediately turn jar upside down.
Repeat until all the jars are filled.
When the jars have cooled turn the right way up and store.
This makes a mild sweet sauce which is very nice with pasta especially as a sauce in vegetarian lasagna.
Edited: Since discussing canning techniques on the forum I felt I should mention that this method is appropriate for tomatoes in Greece which have a high acidic content. They do not spoil even without processing in a water bath. Traditionally Greeks make tomato sauce with tomatoes and salt, nothing else. Furthermore I don't remove the peel or seeds from the tomatoes as they are sweet and do not detract from the flavour. If your tomatoes are different then please process them so that they do not spoil and peel if you know that the skin will be bitter.