Camarões Piri-Piri (Angola)
Satyne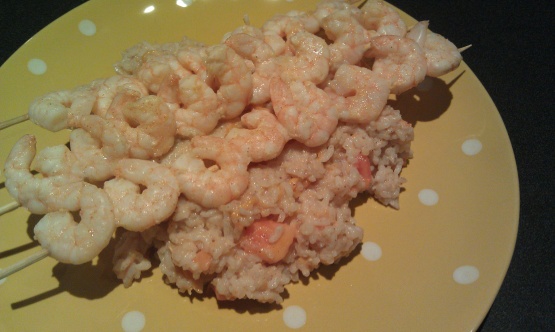 This recipe is from week nine of my food blog, "Travel by Stove." I am attempting to cook one meal from every country on Earth, and Angola is my ninth stop. Camarões Piri-Piri is shrimp cooked in a basic hot pepper sauce. Piri-piri sauce (also known as Peri-Peri) is available from several online gourmet shops.

Top Review by Satyne
These were great! I defrosted too many prawns, so the rest are in the fridge, in the sauce, so the lot I did cook weren't all that saucy, but still really tasty. The recipe was simple too. I served these with your recipe #466887 made for My Food Odyssey.
Mix the peri-peri sauce with the garlic. Add the shrimp.
Cover and marinade in your refrigerator for at least 30 minutes (the longer the better).
Thread shrimp onto skewers. Cook over hot coals or under your broiler for five minutes, turning once, until the shrimp are pink and cooked through.