COOKGIRl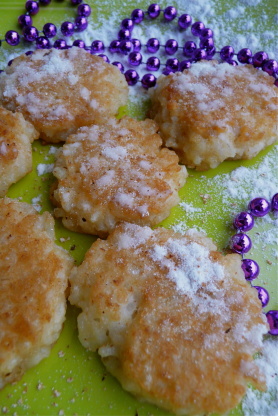 In days gone bye, horse-drawn carts in the streets of New Orleans sold these wonderful, aromatic rice cakes. They have never been widely available in restaurants. They make a great breakfast or snack. These sweets were very popular.

Had no idea what these would taste like, yum! Was looking for something gluten free to try for my son...I will try some ajustments to make it gf. also will try to bake instead of frying..Honey butter and a dust of powdered sugar and they tasted like a donut. Next time I will increase the nutmeg as I only used about 1/8 tsp.
Mix together the flour, sugar, baking powder, salt, and vanilla.
Thoroughly mix the rice and eggs together in a separate bowl.
Add the dry ingredients to the rice and egg mixture.
When thoroughly mixed, drop by spoonfuls into the hot deep fat (about 360 degrees F) and fry until brown.
Drain on paper towel.
Sprinkle with powdered sugar and serve while hot.
Other variations are to serve with honey.