Italian Rice Balls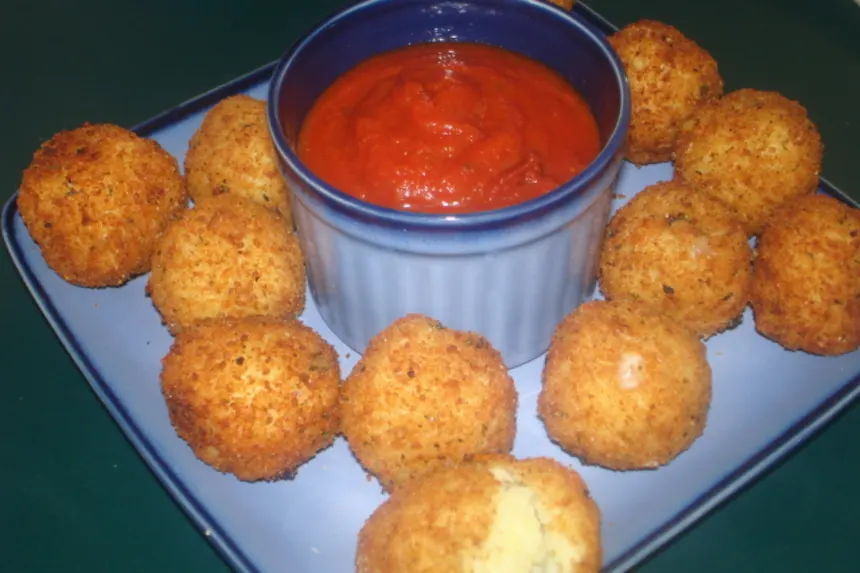 photo by Linajjac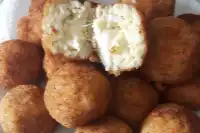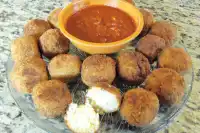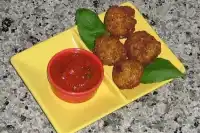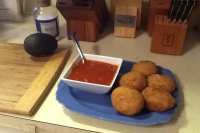 Ready In:

1hr 40mins

Ingredients:

10
directions
In a bowl whisk together the eggs, Parmesan cheese, basil or parsley (I prefer basil), pepper, and salt; cover and refrigerate.
Pour the chicken broth (or water and a 1/2 teaspoon of salt) into a large saucepan and bring to a boil; stir in the rice, cover and reduce the heat to low.
Cook the rice until liquid is almost absorbed, about 15 to 17 minutes.
Remove from heat and gradually pour in egg mixture, continually stirring rapidly to coat the surface of the rice and prevent the egg from scrambling; allow rice mixture to cool in the refrigerator for 1 hour.
Pour bread crumbs into a shallow dish.
Dampen your hands with water and create 1-inch balls from the rice mixture, then coat each one with bread crumbs.
In a small, deep skillet, heat enough oil to cover the rice balls to an adequate frying temperature (350 degrees F) so that a piece of rice from the mixture actively sizzles when dropped in; alternately, a deep fryer may be used.
Fry the rice balls 4 to 6 at a time, turning as needed to ensure even browning.
Drain on paper towels, then serve warm as is or with a bit of marinara sauce.
Another nice touch you can use with these is to put a small cube of mozzarella cheese in the middle of each rice ball!
Questions & Replies

Reviews
My Good Italian friend told me about these, and the next day I made them. I found them easy to make , no problem with the rice holding together. I added some Garlic salt and Chopped Basil that added some Flavor. I used a Ice-cream scoop to make my balls which helped with the size being consistant and also you have to have a bowl of water to keep your hands wet while forming your balls....They were Awesome and I can see they will be a New Favorite in my house !!!!!

 
Tweaks
What we did was instead of bread crumbs, me and my fiancé used quick oats and it was very delicious. And we added 1/2 pound of cooked ground turkey sausage (or beef) along with the egg mixture. And after everything is mixed and a hour, in order to measure them out perfectly we used a 1/4(or 1/2) of a cup measuring cup.

 

Awesome! Easy to make, and delicious. I had to roll them around in oil though, but that was just me. I didnt want to waste all of my dorm kitchens oil! My dorm mates begged me for this recipe. :) I also substituted mozzarella with cheddar, and used cracker crumbs instead of bread crumbs (it was all I had), but they still turned out tasty.

 

I had about 2 cups cold cooked rice to use up so decided to give these a go, used only 1 egg and a little under 1/3 cup parmesan and used Italian herbs and herb & garlic bread crumbs instead. I had some little flavoured cream cheese cubes in the fridge so filled them with those and they turned out great. As my rice was cold I had a little trouble getting it to stick so added about 1 tbs of flour to the mix and rolled them with wet hands which seemed to do the trick. Both hubby and my 16 month daughter thought they were a great appetiser. Thanks!!

 
RECIPE SUBMITTED BY
<p>It's simply this: I love to cook! :) <br /><br />I've been hanging out on the internet since the early days and have collected loads of recipes. I've tried to keep the best of them (and often the more unusual) and look forward to sharing them with you, here. <br /><br />I am proud to say that I have several family members who are also on RecipeZaar! <br /><br />My husband, here as <a href=http://www.recipezaar.com/member/39857>Steingrim</a>, is an excellent cook. He rarely uses recipes, though, so often after he's made dinner I sit down at the computer and talk him through how he made the dishes so that I can get it down on paper. Some of these recipes are in his account, some of them in mine - he rarely uses his account, though, so we'll probably usually post them to mine in the future. <br /><br />My sister <a href=http://www.recipezaar.com/member/65957>Cathy is here as cxstitcher</a> and <a href=http://www.recipezaar.com/member/62727>my mom is Juliesmom</a> - say hi to them, eh? <br /><br />Our <a href=http://www.recipezaar.com/member/379862>friend Darrell is here as Uncle Dobo</a>, too! I've been typing in his recipes for him and entering them on R'Zaar. We're hoping that his sisters will soon show up with their own accounts, as well. :) <br /><br />I collect cookbooks (to slow myself down I've limited myself to purchasing them at thrift stores, although I occasionally buy an especially good one at full price), and - yes, I admit it - I love FoodTV. My favorite chefs on the Food Network are Alton Brown, Rachel Ray, Mario Batali, and Giada De Laurentiis. I'm not fond over fakey, over-enthusiastic performance chefs... Emeril drives me up the wall. I appreciate honesty. Of non-celebrity chefs, I've gotta say that that the greatest influences on my cooking have been my mother, Julia Child, and my cooking instructor Chef Gabriel Claycamp at Seattle's Culinary Communion. <br /><br />In the last couple of years I've been typing up all the recipes my grandparents and my mother collected over the years, and am posting them here. Some of them are quite nostalgic and are higher in fat and processed ingredients than recipes I normally collect, but it's really neat to see the different kinds of foods they were interested in... to see them either typewritten oh-so-carefully by my grandfather, in my grandmother's spidery handwriting, or - in some cases - written by my mother years ago in fountain pen ink. It's like time travel. <br /><br />Cooking peeve: food/cooking snobbery. <br /><br />Regarding my black and white icon (which may or may not be the one I'm currently using): it the sea-dragon tattoo that is on the inside of my right ankle. It's also my personal logo.</p>
View Full Profile