Cajun Shrimp With Lemon Mustard Dip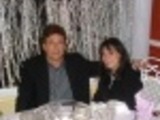 The shrimp has a nice zing to it, which is wonderfully complemented by the lemony dip. This is a nice alternative to regular shrimp with cocktail sauce.
Directions
In bowl, stir together mayonnaise, scallion, mustard, lemon juice, zest, and capers. Cover and refrigerate.
Rinse shrimp and pat dry. Toss with Old Bay Seasoning and onion powder until evenly coated.
In large nonstick skilelt, heat oil over medium-high heat. Add shrimp, in batches if necessary, and cook, turning once, until opaque and cooked through, about 2-3 minutes. Serve hot or cold with dip. If desired, garnish with lemon and dill.
Reviews
Most Helpful
Yummy! We really liked this. My little girl loves shrimp and she really liked it- escpecially the dip part. I added minced garlic to the dip and granulated garlic to the shrimp when I fried them. I left out the capers because we don't care for them. I'm always looking for new ways to make shrimp and fish and I've found several recipes from you that we really like. In fact, I'm making your Salmon With Dijon Dill Shallot Sauce just for me again tonight. Thanks, JackieOhNo! Made for Pick a Chef Spring 2009.

This wasn't as good as I had thought it would be, but not bad either. I really liked the dip part of it, but I guess the old bay seasoning just didn't do it for me and I didn't like them mixed together. Definitely simple to make though. There is a lot more dip than we needed for that amount of shrimp, but maybe our shrimp were a bit smaller.