Cabbage Rolls / Golabki / Stuffed Cabbage
Timothy H.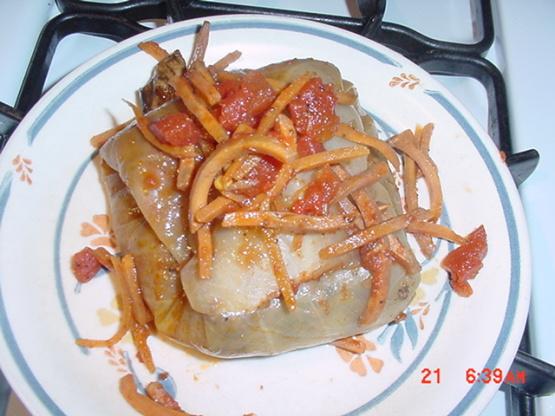 This is a hearty traditional Polish dish consisting of boiled cabbage leaves stuffed with ground beef, chopped onions, and rice or barley, baked in a spicy tomato sauce with sliced carrots for sweetness and mushrooms for heartiness. I remember eating only the stuffing when I was young. Now I eat it all and my kids cabbage they don't want. It's worth all the work! You can cook stove top very low heat, I use a rack on the bottom of the pot then layer the rolls, to prevent burning! Off the top of my head I'd say it makes about 20 rolls (give or take). Smacznego!

I made a few changes to this recipe for religious reasons, and a few just because I'm lazy, and this worked out to a superb dinner! I don't eat pork, and veal is a little hard to get, so I used 3 pounds of ground beef. I splurged a bit and had the butcher grind up the beef for me from a beautiful piece of meat, and I'm glad I did, because it was really worth it. As for the laziness, I didn't parboil the cabbage. I kept it in the freezer overnight, and the leaves peeled off easily in the morning. I also made this in the crockpot, slicing the carrots thinly, and started it up in the morning and cooked it on low for about 10 hours. The house smelled heavenly when I got home. The kids wanted to know why we were eating such special food during the week, they just don't understand how special Zaar Tag can be! Leftovers for lunch the next day made that day special as well (BTW, these reheat beautifully in the microwave)!
Parboil cabbage in a large pot, removing leafs as they fall off into the water and are tender.
Cook till all leaves are tender, but not ripping apart; usually 15.
Run under cold water and drain.
Cut the thick membrane off back of each leaf.
While cabbage is cooking saute onion in butter until lightly browned.
Put all the uncooked meat into a large mixing bowl add eggs.
Add the sauteed onions.
Next add salt pepper, celery salt, parsley, nutmeg, and Worcestershire sauce along with the cooked rice.
Mix thoroughly.
Lay out leaves and depending upon their size, place 2-3 tablespoons of meat mixture on the wider side.
Roll leaf up and over meat, tuck in sides of leaf, and continue to roll to use all leaves and stuffing.
Place rolls, seam down into a greased roasting pan.
Then layer carrots and mushrooms over cabbage.
Mix together the tomato paste, crushed tomatoes, water and brown sugar and pour evenly over all the rolls.
Season with salt and pepper to taste and bay leaves.
Cover roaster and bake 325°F for 2- 21/2 hours.
Half way through baking check to make sure there's enough liquid; additional water can be added.
To serve, spoon sauce over rolls.
Serve with mashed potatoes!
Check my recipes for garlic mashed potatoes. http://www.food.com/recipe-finder/all/garlic-masshed-potatoes?chef=58104.