Polish Stuffed Cabbage Rolls (Golabki / Golumkies / Golumpkis)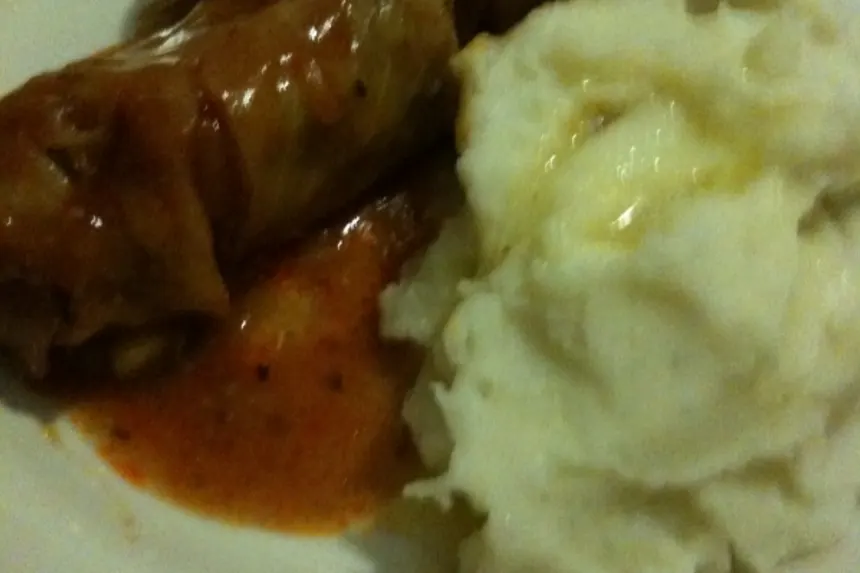 photo by sdowswell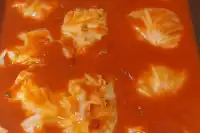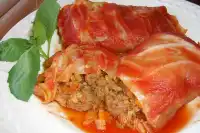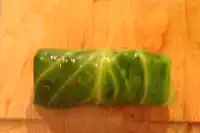 Ready In:

1hr 10mins

Ingredients:

18
directions
Cut 12 large leaves off of cabbage head, cover leaves with boiling water, let stand until leaves are limp (2-3 minutes); then drain OR core cabbage head, and boil cabbage until leaves are tender enough to remove easily (10-15 minutes), very carefully remove 12 large leaves (You may have to peel the outer layers first and then return the cabbage to cook and continue peeling the leaves until all are done); then drain.
Mix beef, pork, rice, egg, milk, seasonings, and vegetables.
Preheat oven to 350°F.
Put 1-4 tablespoons (depending on size of leaf) of meat mixture in center of each leaf; tuck in sides and roll to cover meat (I roll any leftover filling into meatballs and cook them with the cabbage rolls).
Place, seam side down in baking dish.
Mix tomato sauce with the sugar; pour over rolls.
Cover and bake for 45-60 minutes.
Reviews
This took me back to my childhood. Big family gatherings were often accompanied by Mom's giant electric roaster filled with these little packets of taste bud bliss! I cored the whole head of cabbage, plunged it into a pot of boiling water, carefully removing the leaves as they softened and separated from the head. Used brown rice, 1 lb. ground bison and 13 ozs. bulk, Sweet Italian sausage. Added 1/2 small can of tomato paste mixed w/water to make 1/2 cup liquid, then mixed that in w/meat mixture for added moisture. Skipped the milk and reduced the basil to 1/4 tsp. Mixed a 14 oz. can of diced tomatoes with the remaining tomato paste, 1 cup water and 1.5 Tblsp brown sugar and dumped over top of packets and meatballs. Covered everything w/remaining cabbage leaves to hold in that moisture (great trick btw!) Baked in large roasting pan @ 325F for 1 hour + 45 mins. Discarded the leaves lying on top, which were now showing signs of drying out. This was the first time DH had ever tasted this dish. He's not a big fan of cabbage, but he said, "These are SUPER AWESOME!" He gobbled down two giant ones, plus 2 meatballs. Served w/mashed potatoes. Thank you so much for sharing this delicious dish! We have PLENTY of leftovers. Will be giving some to a friend this afternoon. Very easy and very tasty!

 

We attempt Stuffed Cabbage once a year regretting our decision once the food is put on the table. Not this time! This recipe consists of absolutely wonderful flavor. Of course, like all, I made some modifications: Used up leftover homemade marinara sauce. Mixed a half a cup of marinara sauce (with brown sugar) into meat mixture. Increased (brown) rice to 1 cup. Forgot the milk, and left out the chopped cabbage (I think the cabbage rolls add more than enough of that sulfuric taste). Do NOT skip on the onion, carrot, celery, etc. It really made a difference. Thank you so much littleturtle! A true winner.

 
Tweaks
These were very good cabbage rolls. I made them last night. I spent most of the day looking for a recipe that I thought would be good. The only thing different I did was use extra lean ground beef & I added a little cayenne or red pepper to the tomato sauce. I will definately use this as my cabbage roll recipe but next time I will use a more moist meat (the rolls were hard) & probably use some kind of Cajun seasoning instead of the paprika. I've lived in Louisiana/Texas all my life & I'm just use to things being a little spicey.

 

OMG. I grew up eating golumpkis. Mom made hers just a tiny bit different but these are phenomenal as well! I did however do a couple of things that mom did. Instead of using tomato sauce I used 3-10 oz cans of Campbell's tomato soup (I like LOTS of juice), diluted just a bit (one can's worth) with some of the water the cabbage cooked in. By using soup, I did not add any additional salt plus I only added about a1 tsp. of brown sugar as I think the soup is sweetened a smidge already. I also laid a couple of bay leaves on top of the golumpkis before cooking. Remove the bay leaves when done. Lastly, mom used a pressure cooker to cook her golumpkis. Takes 12-15 minutes cooking time after pressure is reached. I then turn the heat off and leave cooker on the stove for another 5-7 mins. (I have a big pressure cooker that was filled nearly to the top with golumpkis.) Then I run cold water over the top of the cooker. This cools the cooker quickly and releases any remaining pressure. Open up the cooker and dig in. Very yummy! I love cooking with a pressure cooker. It's the old school version of a microware. Cooks super fast and everything is amazingly tender.