*Parsley*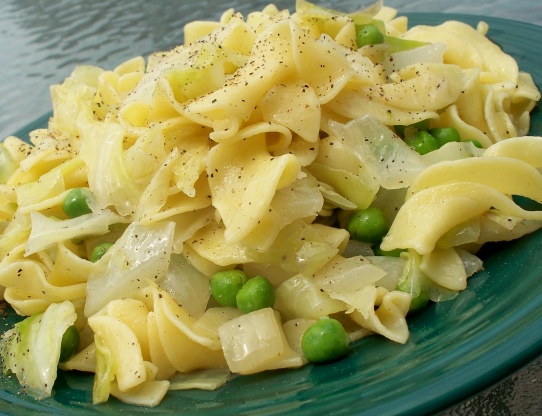 A great side dish or a meal on its own. This is a Polish/Hungarian dish. Can use bacon but I cut back on that to make it meatless. Also can garnish with poppy seeds. Adding peas for color and nutrition. Bacon is a yummy addition for those that eat meat. Just brown drain most of the fat then add butter and oil and brown onions. Be sure to give the onions a nice brown color using a med high heat.

It is just divine!

I have made this several time, but forgot to post a review. The first time, I added mushroom; because I had to use a few up.

The second time, made as is.

This time. NO peas, I was out, but I added some broth as the cabbage cooked. Also, the broth really got soaked up by the noodles which I liked. I also added some red pepper flakes to compensate, NO peas. I know different flavors, just wanted a little extra punch.

SO - overall, it doesn't matter, Follow it exactly, or do a couple of minor changes like me. I liked each and every time; and will make it over and over.

This is easily a main dish as well, served with a salad.

My fave ... those 'big thick' egg noodles. Nothing better. 10 stars for me!
Melt butter and olive oil in pan over med high heat.
Saute onions till golden brown, 5-10 minutes.
Add cabbage cook till soft, 15 minutes.
Mix in noodles and frozen peas; season with lots and lots of pepper and salt to taste. (Key here is lots of pepper.).
Cook 2 minutes and serve.