gailanng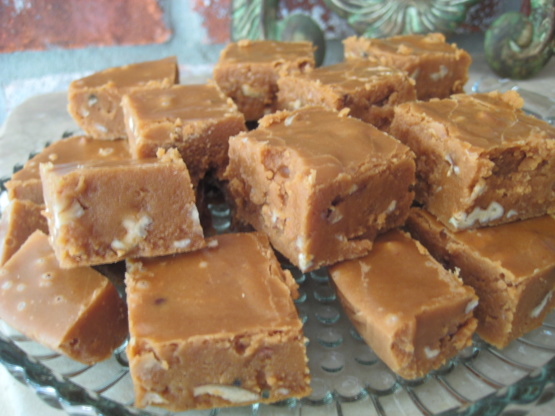 This recipe is form The Creative Christmas Kitchen by Leisure Arts from the Memories in the Making Series 1992 I have never seen another recipe like it and it is so creamy and yummy delicious.
Delicious caramel fudge. It took a bit longer to reach softball stage because of the higher proportion of liquid to sugar compared to regular fudge. I made half the recipe and even in a two-quart pot, it foamed up to within an inch of the rim, so be sure you use a larger size pot than you think you need.
Butter sides of a large heavy saucepan or Dutch oven.
Combine first 5 ingredients in pan and cook over medium-low heat, stirring constantly until butter melts and sugar dissolves.
Using a pastry brush dipped in hot water, wash down any sugar crystals on side of pan.
attach candy thermometer to pan, making sure thermometer does not touch bottom of pan.
Increase heat to medium and bring to a boil. Do not stir while syrup is boiling.
Continue t cook until syrup reaches softball stage (Approximately 234 to 240 degrees).
Test about ½-teaspoon syrup in ice water. Syrup should easily form a ball in ice water but flatten when held in your hand.
Remove from heat: add vanilla. DO NOT STIR until syrup cools to approximately 200 degrees.
Using a medium speed of an electric mixer, beat fudge until thickened and no longer glossy.
Stir in nuts.
Pour into a buttered 8- inch square pan. Cool completely.
Cut into 1-inch squares.
Store in an airtight container in refrigerator.