Bev I Am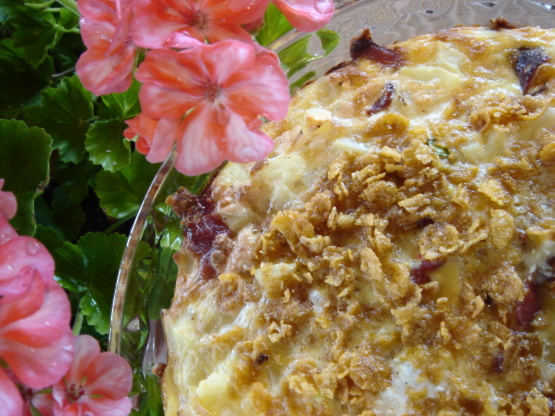 An overnight casserole that you pop in the oven for an easy breakfast in the morning.

I have been looking for an excellent overnight breakfast and I have now discovered it! The pie wedges serve up in perfect form. At first taste, you may think you are eating quiche, but the hash browns and the cornflake crust give this casserole a distinction all it's own. In the midst of my recipe, I discovered that my Swiss cheese had seen it's better day. So it was discarded and I used mozzarella cheese as a replacement which proved to be an excellent choice in a pinch. Be sure to place your Tabasco on the table for your diner's discretion. I will definitely make this again as I am sure this will become a standard in my home, not only for my family, but for special occasions with guests as well. This recipe is a winner!! Thanks for sharing, KelBel! : )
Cook bacon on until crisp, crumble. Reserve 1 T bacon grease.
Mix corn flake crumbs with reserved bacon grease.
Beat eggs in bowl and add remaining ingredients and bacon.
Pour into pie plate and top with corn flake crumb mixture.
Cover and refridgerate 2 hours - overnight. Bake uncoverd at 325 for 50 minutes.