Prep 15 mins
Cook 20 mins

With Easter coming I've been looking through my recipes for ham recipes for those ham leftovers and came across this one.
Directions
Place broccoli and water in a 1 quart microwave-safe bowl.
Cover and microwave on high for 3 to 5 minutes, or until the broccoli is tender, stirring once.
Drain; set aside and keep warm.
In another microwave-safe bowl, heat butter, uncovered on high for 20 seconds, or until melted.
Add onion, cover and microwave on high for 2 minutes, or until tender.
Stir in flour until blended.
Gradually, stir in broth; mix well.
Microwave, uncovered, on high for 4 to 6 minutes, or until thickened and bubbly, stirring once.
Add the ham, sour cream, mushrooms and reserved broccoli; mix well.
Cook, uncovered,on high for 3 to 5 minutes, or until heated through, stirring once.
Serve on noodles.
Reviews
Most Helpful
Very easy to make, I made it a little larger but adjusted on the fly...we loved it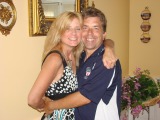 I too made this on the stove rather than the microwave. I also left out mushrooms as we don't like them, but this was delicious and we'll definitely make it again! The sauce is to die for, smooth, creamy, just amazing! A nice change from my normal Beef Stroganoff!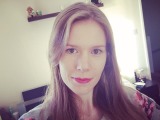 I made this on the top of the stove instead of the microwave, but it was still very quick and easy to make. It's nice all-in-one meal that kids and adults alike will enjoy. I used light sour cream and it worked just fine. I realized that I had no mushrooms, so I left them out, but I'll be sure to use them next time I make this. Thanx for posting!