Broccoli Cauliflower Casserole
Ambervim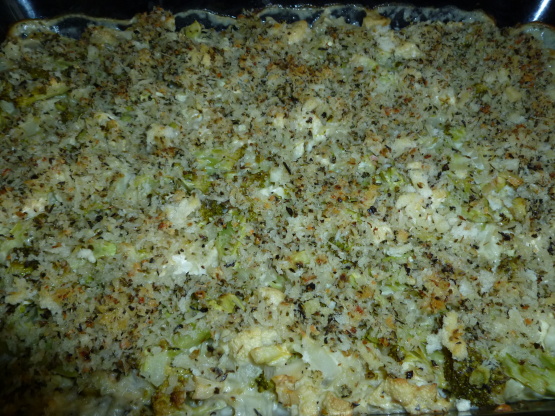 I found this recipe this morning on the www.mccormick.com website. "This creamy casserole can be made a day ahead, refrigerated and then baked just before dinner. Using frozen vegetables makes this dish a cinch." Flavor Variation: Substitute 1 teaspoon McCormick® Lemon & Pepper Seasoning Salt and 1/2 teaspoon McCormick® Basil Leaves for the Italian Seasoning.

This is a wonderful recipe. I made it using ham instead of cauliflower and panko instead of regular breadcrumbs. A real hit in my house!
Preheat oven to 350°F
Mix bread crumbs, 2 tablespoons of the Parmesan cheese, 2 tablespoons melted butter and 1/2 teaspoon of the Italian seasoning in small bowl. Set aside.
Cut up any large broccoli florets or cauliflower into bite-size pieces.
Melt 2 tablespoons butter in large skillet on medium heat. Add onion; cook and stir about 5 minutes or until tender. Stir in flour, remaining 1 teaspoon Italian seasoning, garlic salt and pepper. Add milk; cook and stir until thickened and bubbly. Add cream cheese and remaining 1/4 cup Parmesan cheese; cook and stir until cream cheese is melted. Add vegetables; toss gently to coat.
Spoon into 2-quart baking dish. Sprinkle top evenly with crumb mixture.
Bake 40 minutes or until heated through and top is lightly browned.