Brisket With Portabella Mushrooms and Dried Cranberries
Prep 1 hr 5 mins
Cook 4 hrs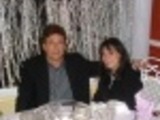 An updated version of a classic Hanukkah dish. And for simplicity, you can partially prepare this up to 2 days ahead! Uncork a Cabernet Sauvignon or Burgundy to serve with dinner.
Directions
Preheat oven to 300 degrees. Whisk wine, broth, cranberry concentrate and flour to blend in medium bowl; pour into 15x10x2-inch roasting pan. Mix in onion, garlic and rosemary. Sprinkle brisket on all sides with salt and pepper. Place brisket, fat side up, in roasting pan. Spoon some of wine mixture over. Cover pan tightly with heavy-duty foil.
Bake brisket until very tender, basting with pan juices every hour, about 3-1/2 hours. Transfer brisket to plate; cool 1 hour at room temperature. Thinly slice brisket across grain. Arrange slices in pan with sauce, overlapping slices slightly. (Brisket can be prepared 2 days ahead. Cover and refrigerate.).
Preheat oven to 350 degrees. Place mushrooms and cranberries in sauce around brisket. Cover pan with foil. Bake until mushrooms are tender and brisket is heated through, about 30 minutes (40 minutes if brisket has been refrigerated.).
Transfer sliced brisket and sauce to platter and serve.
Reviews
Most Helpful
I absolutely love this recipe and so does my family!! It's so easy to make, just follow the directions no changes are necessary at all. What's even better are the leftovers, they're perfect for quick dinners, just warm them in the microwave and enjoy! You will get rave reviews from all you serve this to, I promise!
I made this recipe years ago, for Christmas initially, and so glad to find it again. (yup, put it away and now can't find my copy.) It's so very good that even the mushroom-haters in my family loved it. I cut down a bit on the cranberry juice concentrate the next time I made it, as I found it to be a bit on the sweet side for my taste. HOWEVER....Make This Recipe....You Will Not Be Sorry!!