diner524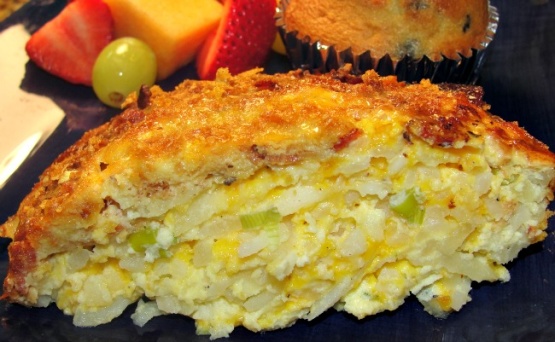 A recipe that came in an email from Taste of Home. Sounds like something I would love, so posting here for safe keeping. You can make the pie the night before to make for a easy morning meal. Update 6/23/2013: After having another chef try this recipe with bad results, I quickly got the ingredients to try it myself (and then make any corrections), which is why I posted it anyways!! Since it was only myself eating this time, I scaled it back for 2-3 servings and did use the shredded hashbrowns as did the previous reviewer, and it worked out perfectly. I only had mine in the refrigerator for a few hours, before baking it for my lunch. I really loved the crunchy topping from the cornflakes and bacon bits on top and next time might increase the amount of cornflakes, so good and really enjoyed the contrast of textures. After the crunchy topping you cut into a creamy tasty inside. I am leaving the recipe as I originally posted as it worked out wonderfully for me.

Made for your Football Pool win - DH & I host a wkly family brunch on Sat morning. However many family members walk together while I cook & they end up here for brunch. I'm never sure how many there will be & try to vary the menu so no one gets bored. Icelanders revere potatoes, so this was very well-rec'd. The frozen potato hash I get here is great for this dish (very small potato dice w/chopped onion). I did chg the topping. DH felt the price of the corn flakes was outrageous & didn't get them, so I subbed the Icelandic equivalent of Durkee's crisp fried onions & it worked well. Congrats on your FP win & thx for sharing this recipe w/us.
In a large skillet, cook bacon over medium heat until crisp. Remove to paper towels. Drain, reserving 2 teaspoons drippings. Stir reserved drippings into cornflakes; set aside.
In a large bowl, combine the eggs, milk, cottage cheese, cheddar cheese, onion, salt and pepper until blended. Stir in hash browns. Pour into a greased 9-in. pie plate. Sprinkle with bacon and cornflake mixture. Cover and refrigerate overnight.
Remove from the refrigerator 30 minutes before baking. Bake, uncovered, at 325° for 45-50 minutes or until a knife inserted near the center comes out clean. Let stand for 5-10 minutes before cutting.