Bergy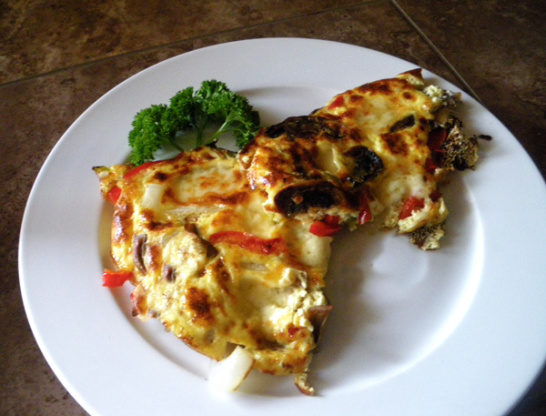 Nice dish for breakfast, brunch, lunch, light supper or after theatre snack. Looks great with the peppers. I like to add some jalapeno, cheese & garlic.

Very Yummy! We add cheese when we put it in the oven to broil. Thanks for sharing.
Heat broiler.
in a heat proof skillet heat 1 tsp oil and add peppers, onions and green onions saute 2 minutes Add potatoes and cook until potatoes are lightly browned.
about 4 minutes.
In a bowl whisk together the egg whites, egg& milk.
Add remaining oil to skillet& pour in the egg mixture.
Cover& cook until the eggs are beginning to set around the edges but the center is still soft about 8 minutes use medium heat Gently loosen the egg from side of pan.
Place skilletabout 4" from heat under broiler.
and cook until the frittata is golden about 1 minute.
Slide frittata onto a plate cut into wedges, garnish with parsley& serve.