Bread Dressing for Turkey
Prep 10 mins
Cook 50 mins

Easy dressing which goes well with simple turkeys or chickens
Make and share this Bread Dressing for Turkey recipe from Food.com.
Directions
Sauté onion and celery in the butter until tender.
Combine onion mixture with bread, pepper, eggs, salt, sage and poultry seasoning in a large mixing bowl.
Stir in broth until well moistened.
Bake in a greased foil-covered shallow baking dish at 325° for about 35 to 45 minutes.
Take the cover off the last 5 minutes to brown.
Reviews
Most Helpful
This was an excellent dressing. You can add mushrooms or whatever you would like also. The only thing is the recipe says it makes 10 servings. I doubled it and it made about 8 servings so that is a bit off. Otherwise, this was soooo good.
Delicious, but with how delicious it was, there was NO way it would serve 10 people! Loved the seasoning and really easy to make. Great tasting dressing and we'll definitely use it again!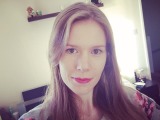 This was good! I used day old garlic bread so I didn't add any of the spices. I also used bullion and water instead of broth; it only took 1/4 cup of water to sufficiently moisten the bread, so it was much too strong, next time I'll just use water instead.
Thanksgiving Tips & Ideas >