Bratwurst Casserole - Meal in One
Bergy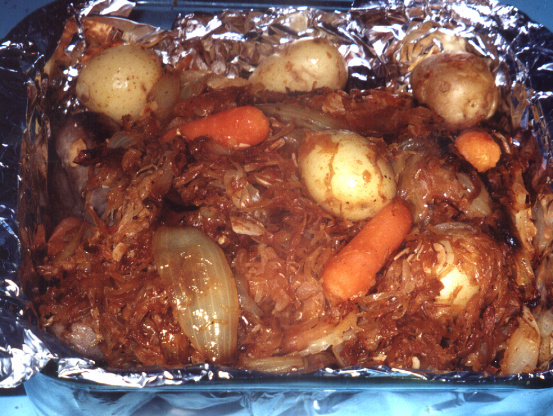 Johnsonville Brats were on sale and I love them so I opened my cupboard doors and out came this recipe. I Challenge those of you that do not like Sauerkraut to try this recipe - I'll bet you'll say" Hey that ole Kraut isn't half bad!". This is easy to make, very little preparation and the bake time is 45 minutes where you can be doing other things. A small green salad will go well along side

I had some leftover brats in the freezer. What to do?! This recipe worked wonderfully! I added 1/2 of a shallot for extra flavor with the kraut mixture. Sprinkled w Swiss cheese (1/4 c.) on top. Interesting addition!
1

(5 count) package bratwursts (usually I prefer Johnsonville, but any other brand will do)

1

cup lager beer, don't waste the rest of the can drink it while you are preparing the recipe

12

baby carrots, almost completely cooked, approx 8 minutes in boiling water depending on the size

12

baby potatoes, almost completely cooked approx 12 minutes in boiling water, depending on size

1

tablespoon vegetable oil

1

medium cooking onion, cut into 8 wedges

2

cups wine-cured sauerkraut, squeezed to get as much moisture out as possible

4

tablespoons brown sugar or 4 tablespoons brown sugar substitute

1

teaspoon chili flakes (I recommend using) (optional)

1

teaspoon paprika
salt & pepper
sweet bavarian mustard
Boil your carrots and potatoes until they are almost tender; drain well.
Put your brats in a skillet lightly prick them, pour in the beer, cover and simmer turning them once until the beer has evaporated.
Finish browning the brats, remove and place them in an oven proof baking dish 8x8x2-inch or something similar.
Return the skillet to medium heat add 1 tbs veggie oil and saute the onions until golden, add kraut, chili flakes, brown sugar, paprika, salt and pepper. Mix well scrapping all the bits of brown from the bottom of the pan.
Your kraut mixture should now be a golden color. Add carrots and potatoes to the Brats; cover with the sauerkraut mixture, seal with foil.
Bake in a 350°F over for 30- 45 minutes.
Serve with Sweet Bavarian Mustard on the side.