Keith M.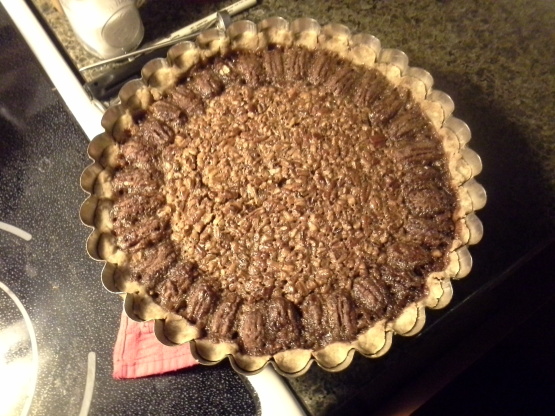 This pie has a wonderful taste. The bourbon doesn't over power the pie.

This is the best pecan pie recipe I have ever made -- including my mom's, which is saying a lot! My only tweak was to use a pie crust shield to cover the crust edge after baking the filled pie for 10 minutes. The crust came out just the right shade of brown. Thank you for posting!
Follow the instructions on page 120, line a 9 inch pie pan with the dough and cover loosely with plastic wrap and refrigerate for 30 minutes.
Position a rack in the bottom third of the oven and preheat to 400 degree.
Remove the plastic wrap and line the pastry shell with parchment paper or aluminum with pie weights.
Bake until the pastry seems set, about 15 minutes.
Remove the foil and set the pie shell aside on a baking sheet.
Reduce brown sugar and eggs in a medium bowl, then whisk in the corn syrup melted butter, bourbon, vanilla, and salt and whisk to combine.
Arrange the pecans in pan and pour in the filing.
Bake the pie on the baking sheet until the sides of the filling are puffed but the center slightly indented, 35 to 45 minutes.
Transfer the pie to a wire cooling rack.
Let stand until warm, or cool completely.
Store, covered, at room temperature for up to 2 days.
Serve at room temperature.
The pecans should be coarsely chopped- whole pecans make the pie impossible to cut.
Serve the pecan pie warm with a big scoop of vanilla ice cream alongside, or with a whipped cream.
Dark corn syrup and a splash of bourbon make this a pecan pie with backbone.