Anonymous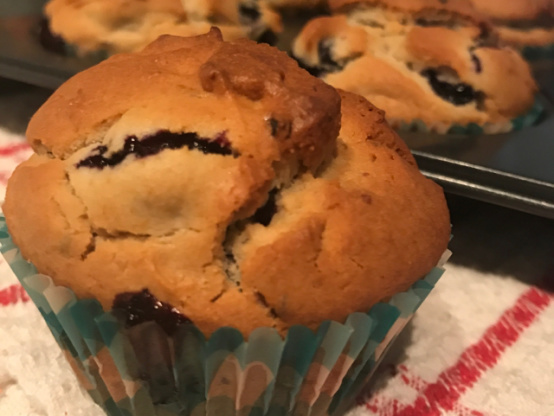 These used to be served at the Jordon Marsh department stores(now Macy's). On our shopping trips, my sister and I always made sure we stopped at their restaurant and had one of these blueberry muffins with a cup of coffee...they are delicious!
Recipe worked as written. Unfortunately the results were too much like cake instead of the texture of a muffin. Recipe (#22656) with lemon instead of vanilla makes a superior muffin. Even though the ingredients are pretty much the same, the technique yields a better crumb.
Grease 12 cup muffin pan.
Preheat oven to 375.
In large bowl with mixer at medium speed, cream butter and sugar until light and fluffy.
Add eggs one at a time, beating well after each addition.
Combine flour, baking powder and salt.
Add alternately to creamed mixture with milk and vanilla.
Crush 1/2 cup berries and add to batter.
Fold remaining berries into batter and spoon into muffin pan.
Sprinkle with sugar.
Bake 30 minutes or until toothpick inserted in center comes out clean.
Cool in pan 5 minutes and turn onto wire rack.