ihvhope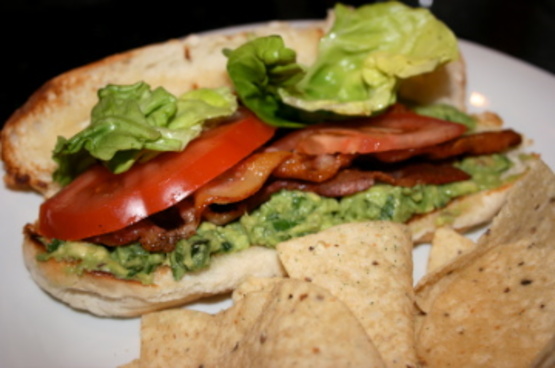 From "Breakfasts" by Jacque Malouf. I copied this from a friend's book for safe keeping. Sounds great.

This recipe is DELISH! I love BLT's and this one is special. I used bacon because that's what I had and I also used butter lettuce because my store didn't have arugula, but I did not change the guacamole because this is what makes this sandwich. I also put a little mayo on our rolls and grilled them crisp in a pan which to me took this sandwich to another level. I used jalepeno diced really tiny and it added a spicy freshness--not too hot at all. Thank you for a keeper!
For the guacamole, peel the avocado and place the flesh in a bowl.
Lightly mash with fork.
Add remaining ingredients to taste and mix well. *Use food processor if you want a smoother guacamole.
Cover and set aside.
For the BLT, place a large skillet over medium-high heat and add a small amount of oil to the skillet.
Add the bacon and cook for 2-3 minutes on each side or until crispy, then drain on paper towels.
Spread each halve of the rolls with guacamole, followed by 2 slices of bacon, tomato slices and finish with a handful of arugula leaves and top of roll.
Serve while bacon is still warm.