PaulaG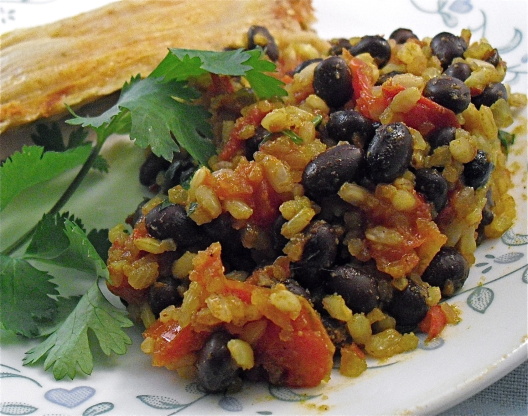 This spicy recipe tastes so good, it's hard to believe it's healthy. It's convenient as a one-pot meal, but a cooling side dish such as fresh sliced mango or a cucumber salad would be good too. I use red pepper flakes because I don't like the acidity of fresh; instructions are included for fresh red pepper if you prefer. You can also replace the chicken broth with vegetable broth for a vegetarian meal.

I was attracted to this recipe because the spices looked as though they would add great flavor. I adapted it to suit our tastes and used white rice, added 1/4 cup white wine to the rice after heating it in the oil so it would be more flavorful. I used frozen italian tomatoes from our garden and chopped them before adding. I added prepackaged and precooked turkey/chicken with sun dried tomato and mozzarella sausage cut on the diagonal after everything was done just to heat the sausage. It was YUMMY! We all love this recipe and will make it often, of course with our "tweaks" and whatever else we have on hand. I would have given 5 stars but I really think the wine added more flavor. Oh, and I was light on the hot stuff. Our granddaughter cannot tolerate it and neither can I. It seems that a lot of recipes today have a lot of hot peppers in them.
Heat oil in a stockpot over medium-high heat.
Saute onion and garlic until onion softens, about 4 minutes.
Add rice and saute for 2 minutes (this crisps the outside of the rice).
Add broth and tomatoes. Bring to a boil, cover and lower the heat. Cook for 40 minutes until rice is done, stirring occasionally.
Add beans, spices, and fresh cilantro.
To replace the red pepper flakes with fresh: Saute a chopped red pepper with the onion and add a 1/2 teaspoon cayenne pepper with the beans.