Black Bean, Corn & Chicken Salad
DuChick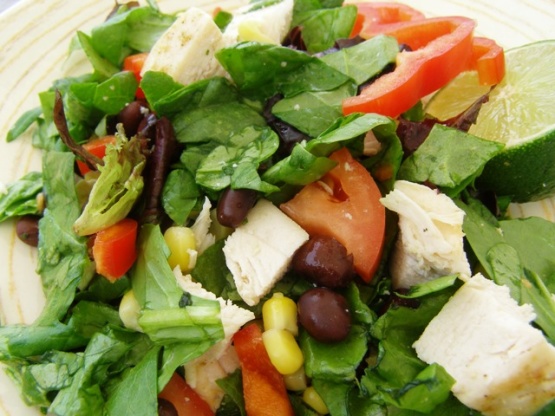 Delicious salad that can be served warm or cold. I serve it with olive oil tortillas and sour cream. I think that I found this recipe in a magazine a few years back. Truly delicious, and very healthy.

I was looking for a recipe that's similar to one at Red Robin and this is pretty close! It's a great salad and so healthy! I added a chopped tomato, plus some reduced fat cheddar cheese and topped it all with a ff sour cream/salsa dressing. Very, very good. Thanks Jake & Aimee! (Now post some more yummy recipes!)
Prepare all vegetables.
Dice chicken (I usually cook the chicken while I am preparing the vegetables, then I dice it while it's warm).
In a large bowl, mix all ingredients together.
Let it sit for a few minutes. (The warmth of the chicken will heat the salad and help the flavors to marry quickly. You can let this sit for about 10 mins or put it in the fridge overnight.).
Stir to redistribute the ingredients.
Serve with tortillas (avocado & sour cream go well too.).