Black Bean and Chorizo Soup
Xexe383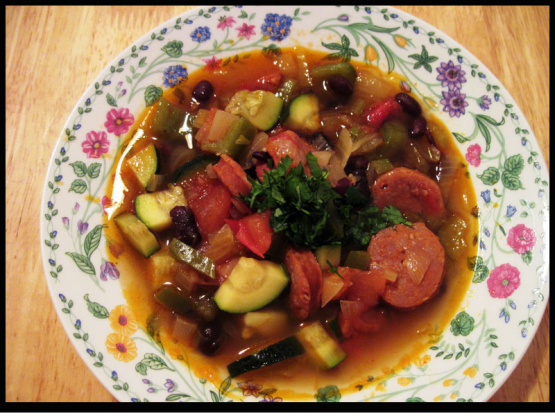 In my crusade to get more chorizo recipes on this site i add this one. it's by sara moulton of the food network and it's fast and easy

Yummy! This was good and spicy! I used 2 ribs of celery instead of the green pepper, and also increased the garlic and chorizo. This was very tasty and spicy! I garnished mine with shredded pepper jack cheese. I also found that I needed to add more salt than was called for.
Cook chorizo, onion, garlic, bell pepper, pepper flakes, cumin and salt in oil in a 3-quart heavy saucepan over moderate heat, stirring, until vegetables are softened, about 10 minutes.
Add broth (2 1/2 cups for smaller cans of beans or 3 cups for larger) and beans and simmer, partially covered, 15 minutes.
Lightly mash beans with potato masher to slightly thicken.