Beef Stew for Two ( Slow Cooker )
gailanng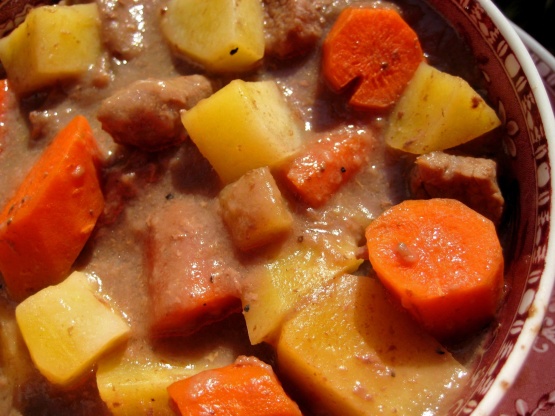 I wanted to make stew, but I didn't want to make a lot so this recipe came out of the darkest corners of my brain. And by the way, this recipe is just enough for two hearty bowlfuls. If you want to double this, go right ahead. Please feel free to adjust the seasonings to your own taste. Submitted to "ZAAR" on December 30th, 2008.

A really easy and hearty stew that has just the perfect amount of seasonings. I did use closer to 2lbs. of meat and so adjusted the rest of the ingredients accordingly. This got me 4 good servings. Great comfort food Chef!~ Made for Soups On in the Diabetic Forum~
Mix flour, kosher salt, black pepper, onion powder, and garlic powder together in a large plastic bag.
Add beef stew chunks, coating well.
Place coated meat into a 2 quart slow cooker.
Top meat with potatoes and carrots.
Mix together beef broth and worcestershire sauce, and pour over potatoes.
Top with bay leaf, and cover.
Cook on low for 6 hours.
After cooking remove bay leaf and stir so meat and veggies are combined.
Serve with your favorite crusty bread.