Beef and Potatoes With Rosemary and Thyme - Crock Pot
Derf2440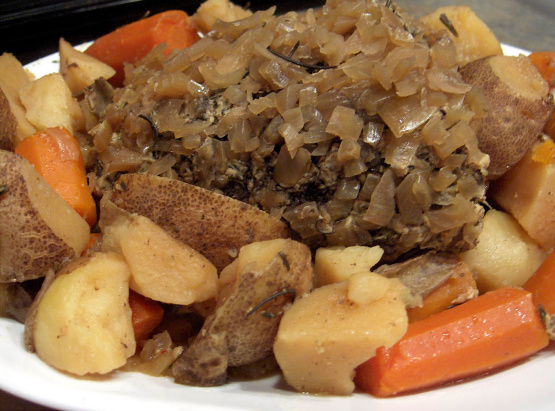 A hearty meal, add more seasonings if you like.

I'll be honest, I didn't make this. I did, however, print it out for a friend, who served it to me for lunch last Saturday. I totally enjoyed it, had seconds, and even thought about thirds. I would have added a ton of garlic, but that's just me. Thanks Dorothy, this one is a winner!
Arrange potatoes and carrots around outer edge in 4-5 quart crock pot slow cooker.
Trim excess fat from beef.
Mix mustard, rosemary, thyme, salt and pepper.
Spread evenly over beef.
Place beef in slow cooker, it will overlap vegetable slightly.
Sprinkle onion over beef.
Pour broth evenly over beef and vegetables.
Cover and cook on low heat setting 8-9 hours or until beef and veggies are tender.
Remove beef and vegetable from slow cooker with slotted spoon.
Slice beef.
To serve spoon beef juices from slow cooker over beef and veggies.
Freeze leftovers.