Beef and Black-Eyed Pea Soup
dicentra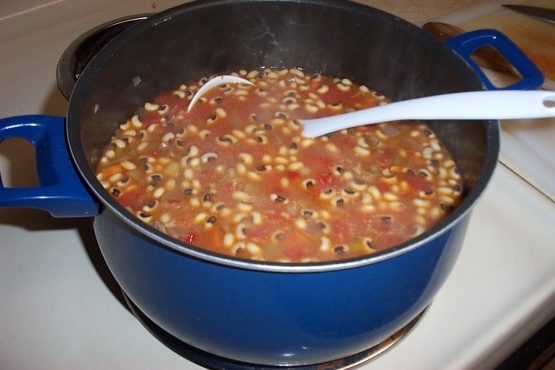 From Gooseberry Patch From Grandma's Kitchen.

Wow! This is really yummy. :) I had some stew meat to use up, so I cut that into tiny pieces and used that instead of the ground beef. I also didn't have green peppers, so I used about 1/3 of a jar of roasted red peppers. This gave nice flavor to the soup, but I think next time I'd prefer the green peppers. I only used 1 quart of water because I wanted a thicker soup. This worked well for me. I put about 4 servings (makes about 8-10 small servings) in the freezer, and I'm kicking myself now for adding the rice before freezing. Oops. Very tasty soup. I'll make this one again. Thanks for sharing. :)
Brown beef and green pepper in a skillet; drain and set aside.
Melt butter an a large Dutch oven; add flour, whisking until smooth.
Cook and stir constantly for 1 minute.
Gradually add in water; stir until bubbly.
Stir in beef mixture and all the remaining ingredients, except for the rice.
Bring mixture to a boil; cover and lower heat to simmer 45 minutes-1 hour.
Add rice during the last 15 minutes or cooking.