Beef and Asparagus Stir-Fry
Bergy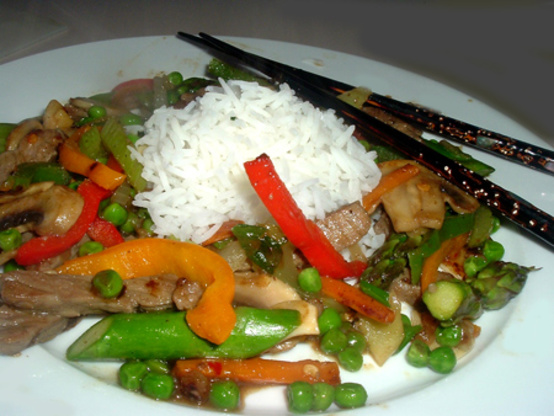 This is a nice, filling stir fry. When I make this I omit the mushrooms and use all three colors of the bell peppers instead of just one. Also if fresh asparagus is not available I have used frozen asparagus spears(thawed). Though it works out fine, not as good as fresh asparagus.

Only had 8 oz of sirloin, which I marinated in 1/4 cup Trader Ming's Soyaki, 1/8 cup OJ, 1/8 cup soy sauce, 1 tsp grated ginger & 1 tsp grated garlic. Very tender & flavorful. Sub'd pepper & mushrooms with 1 zuchinni & 1 pkg. of asian stir fry vegetables. Saved the marinade & brought it to a boil (safety) adding the water, soy sauce, bouillon & cornstarch. Coated the stir fry perfectly. Thanks for posting a keeper Christine! Your recipe was perfect, just had to tweak it with what I had and marinading the meat was a good addition.
Combine water, soy sauce, bouillon and cornstarch in a small bowl.
Heat oil in large skillet.
Add asparagus, beef, bell pepper, onion and carot; cook, stirring frequently, until beef is no longer pink.
Add mushrooms and green onions; cook until tender.
Stir in soy sauce mixture; cook, stirring constantly, until sauce comes to a boil and thickens.
Serve over rice.
Season with ground black pepper.