berry271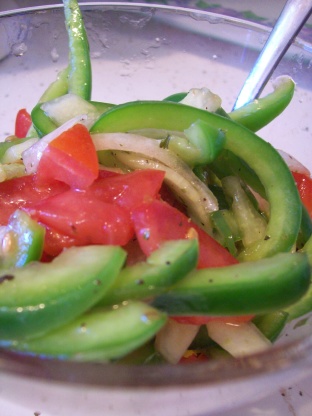 A tasty and refreshing salad. Nice to prepare ahead for company. An adaptation of a recipe from Marilyn Perzik on Allrecipes.com. I like to sprinkle the croutons on individual servings just before eating.
Seed and dice the peppers and tomatoes.
Peel, seed, and dice the cucumber.
Peel and dice the onion.
Toss vegetables in a large bowl.
In a medium bowl whisk together the vinegar, oil, and seasonings.
Pour over vegetables and toss.
Refrigerate for 3 hours before serving.
If desired add croutons before serving.