Banana Split Dessert (4 Points * Low Fat & Low Sugar)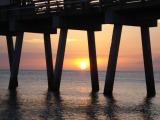 Here's a lower-fat and sugar version of the popular Banana Split Dessert. One serving has approx 194 calories and 6 grams of fat. That's about 4 weight watcher's points.
Directions
Combine cracker crumbs and margarine; press on the bottom of a 9 x 13 dish coated with nonstick cooking spray.
In a bowl, combine the milks and the pudding mixes and whisk for 2 minutes or until slightly thickened.
Spread pudding evenly over crust. Layer with bananas, drained pineapple and then whipped topping.
Sprinkle with nuts; drizzle with chocolate syrup and top with cherries.
Refrigerate for at least 1 hour before serving. Cut into 15 servings.
Reviews
Most Helpful
I brought this to a bbq at my moms and we all liked it. ( my sisters bf wanted to take some home) I made the recipe as stated, the only problem I had was with the pudding size. the largest size of sf pudding is 1.5 oz. so i figured it was suppose to be that size, however the pudding became thick (too thick) within secconds, so iam guessing it is suppose to be two small boxes of the sf pudding? that would be two 1 oz boxes? there was enough pudding to spread around as it was too thick so i made a small box and "patched" in the holes..... all in all it we enoyed it. thanks
This recipe is great! It really does remind you of a banana slpit. I also used sugar free Chocolate syrup. I took some of it to work with me as it was too much for just my husband and I. The crew loved it and couldn't believe it was low calorie.
I made this for a work party. Everyone raved over it. I used sugar-free chocolate syrup and sugar-free cool whip also. Very quick and easy to prepare.