GaylaJ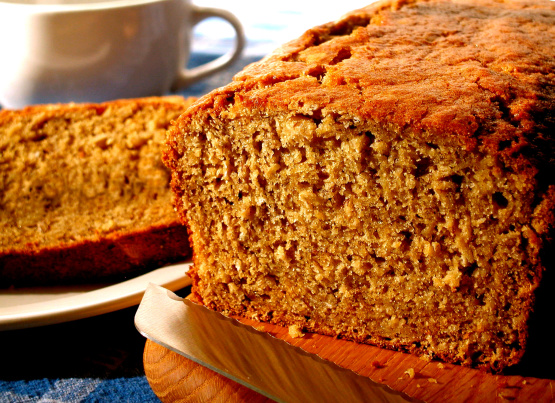 This is an old Cooking Light recipe. A great recipe for a grab and go breakfast. This is a Midwest U.S. region recipe where oats are grown in a huge way.

We had our first outdoor family brunch (a tradition during the spring season). This bread is one of the things I served. It was very easy and turned out very delicious. We ate it warm with a cinnamon-butter spread. Wonderful and thanks for sharing.
Preheat oven to 350.
Combine first 4 ingredients in a large bowl; beat well.
Combine banana, oats, and milk; add to sugar mixture, beating well.
Lightly spoon flour into dry measuring cups; level with a knife.
Combine flour, baking powder, baking soda, salt, and cinnamon; stir with a whisk.
Add to sugar mixture; beat just until moist.
Spoon batter into a 9 X 5 loaf pan coated with cooking spray.
Bake at 350 for 1 hour and 10 minutes or until a wooden pick inserted in center comes out clean.
Cool 10 minutes in pan on a wire rack; remove from pan.
Cool completely on wire rack.