Anonymous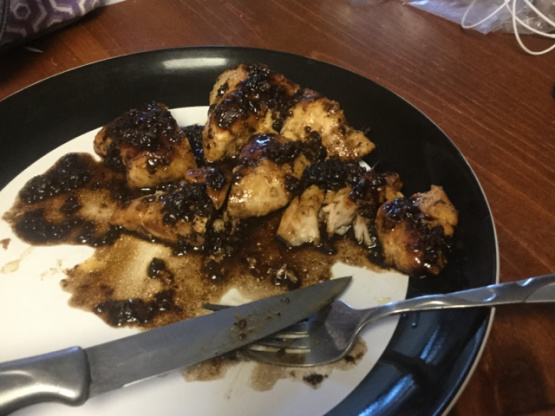 Delicious chicken dish for a nice, simple, light meal. Note:This is one of the recipes I adopted in the Great 'Zaar Orphan Adoption of 2005. I hope you enjoy it. Note: If desired, you can substitute approximately 12-16 chicken breast tenders (tenderloins) in lieu of the whole chicken breasts.

Incredibly easy and absolutely delicious! I was out of lemon-pepper, so substituted fresh lime juice and fresh ground pepper; amazingly, I was also out of chicken broth, so used apple juice and a splash of red wine as the mixture was reducing. I will definitely make this one again... and probably double the sauce next time!
On a hard surface with meat mallet, lightly pound chicken to 1/4-inch. To minimize the mess, place the breasts/tenders in a zipper-lock bag (unsealed) before pounding (if doing so, ONLY use a flat-surface mallet -- not one with ridges).
Sprinkle lemon-pepper seasoning evenly on both sides of chicken. Press to adhere.
In a large frying pan, pour oil and heat to medium temperature.
Add chicken breasts and cook, turning once, about 7 minutes or until fork can be inserted in chicken with ease. If substituting tenders, cook approximately 2-3 minutes per side, or until done.
Remove chicken to warm serving platter (keep warm). In medium bowl, mix together vinegar, broth and garlic; add to frying pan. Cook over medium-high heat (scraping up brown meat bits) about 2-4 minutes or until mixture is reduced and syrupy.
Add butter; stir to melt.
Place chicken on serving dish and spoon sauce over chicken.
Garnish with parsley sprigs and cherry tomatoes.