BecR2400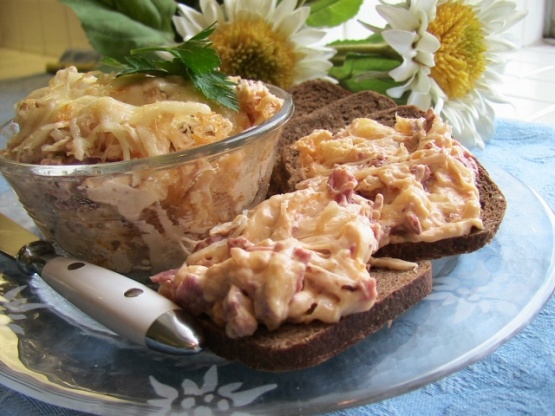 If you are a lover of Reubens, then you will love this hot dip! --- serve with toasted cocktail pumpernickle or rye bread slices --- this may be made up to 24 hours in advance then baked.

This turned out to be really good. I did adjust ingredients to make it taste more like a reuben sandwich. Also, I carved out the middle of a large rye bread loaf and baked it inside that. THAT part was fabulous.
1

(8 ounce) package cream cheese (very soft but not melted)
1⁄2 teaspoon garlic powder (optional)
cayenne pepper (optional or adjust to taste)

2

tablespoons sour cream
1⁄2 cup kraft thousand island dressing (or use another popular brand)
1 3⁄4 cups shredded swiss cheese, divided

4

ounces sliced pastrami, chopped (or use Deli corned beef, chopped)
1⁄2-3⁄4 cup sauerkraut, well drained (hand-squeeze out any excess moisture)
toasted pumpernickel bread, slices (use cocktail size bread slices, can use cocktail size rye bread, toasted)
Heat oven to 400 degrees F.
Grease a 9 or 10-inch glass pie plate.
In a bowl combine the soft cream cheese with garlic powder, cayenne pepper (if using) sour cream and Thousand Island dressing; mix vigorously until very smooth.
Mix in 1-1/4 cups Swiss cheese and the chopped pastrami or corned beef.
Spread the mixture into the pie plate.
Top with the sauerkraut, then sprinkle remaining 1/2 cup Swiss cheese on top.
At this point you may cover and refrigerate for 24 hours.
Bake (400 degrees F) for about 15-20 minutes or until edges are bubbly and the mixture is very hot in the middle, you may need a slightly longer baking time if the mixture was chilled.