Bev I Am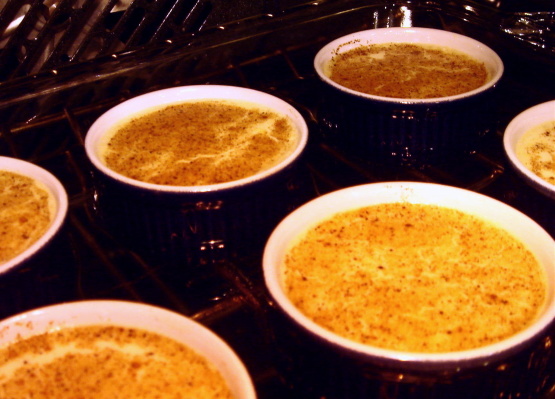 This was my favorite dessert that my grandmother used to make and my family loves it too. We always serve it cold and as it has a long oven time we usually have it in the fall/winter. Recipe source: local newspaper.

I love this baked custard. I mix it up( about 3 batches) in my blender, pour it into 4 qt. jars. Heat huge pan with water on the stove top, when it comes to a boil turn stove off, add the 4 filled jars and put it in a pre-heated oven. 1 hour later we have a huge batch of custard. Let it cool and put in fridge for tomarrow. I like it warm in the winter.
Preheat oven to 300°F.
Combine eggs, milk, sugar and vanilla in a bowl, mixing until smooth.
Pour into six ramekin dishes or custard cups.
Sprinkle with nutmeg.
In a large baking dish filled half-way up with water, place custard cups.
Bake for 1 hour 15 minutes to 1 hour 30 minutes or until knife comes out clean when inserted into middle of one of the custards.
Refrigerate until serving time.