Mexican Flan (Baked caramel Custard)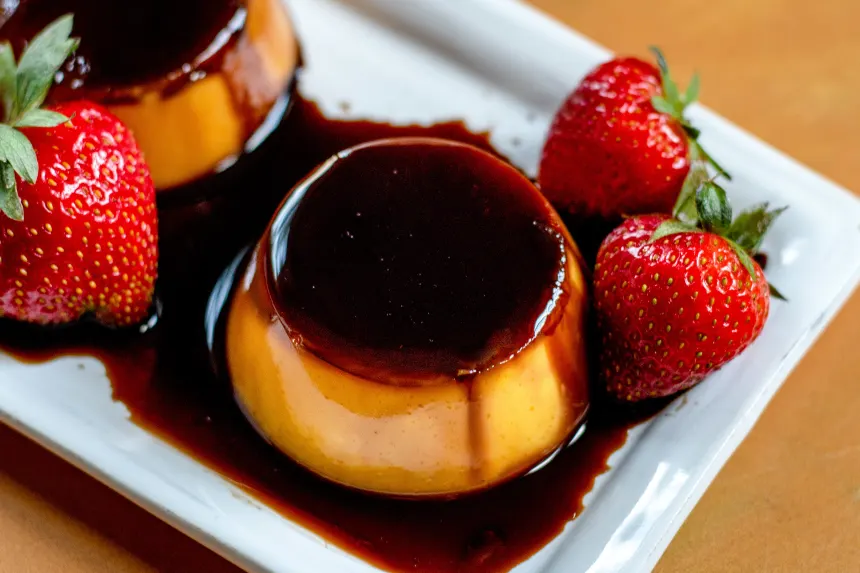 photo by A Marsteller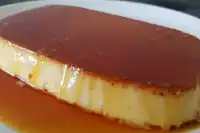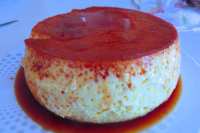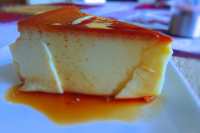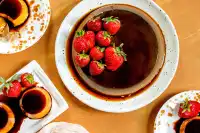 Ready In:

3hrs 45mins

Ingredients:

7
directions
Heat 1/2 cup sugar in a heavy skillet or saucepan, stirring constantly until it melts and turns a dark golden color.
Remove from heat and immediately pour into a 4 1/2 cup metal ring mold, swish it around so it evenly coats the bottom of the ring mold.
In a large mixing bowl, lightly beat the eggs.
Stir in milk,1/2 cup sugar, vanilla and orange peel.
Place caramel coated ring mold in another pan and place on an oven rack.
Pour egg mixture into the ring mold and pour the hottest tap water possible around the ring mold to a depth of 1 inch.
Bake at 325Ffor close to l hour or until a knife comes out clean.
Cool flan on a wire rack, Chill for at least 3 1/2 hours.
To unmold the flan loosen edges with a spatula, slip spatula down the sides to let air in.
Place the serving platter over the mold and flip to allow the flan to slip onto the platter.
Spoon the caramel that may remain in the mold on top of the flan.
Pile sliced fruit in the center and serve.
Questions & Replies

Reviews
I baked this while my little boy was watching tv .It took me only 10 minutes and the result was very satisfying .The dessert was very light and refreshing .The only thing I shouldn't have done was cut down on sugar in the custard (I always find American desserts too sweet for my taste )Next time I will put the stated amount .Thanks for the recipe .Its a keeper

 

This is absolutely delicious! I dont have a 'ring mold' (dont even know what it is actually..lol) so I used a pie dish that i have and set it in a larger dish in the oven, worked fine and had no problem getting it out of the dish. Loved the syrup and the orange rind gave it a lovely flavour. Thanks for posting Bergy! =)

 

DH's work was having "Mexican Night" at work where other co-workers already signed up to bring taco dips, enchaladas, tacos and rice and beans; so I knew the dessert had to come from me. On short notice, I was able to whip this up having all ingredients on hand, as I should. I wasn't able to get my hands on fresh fruit to in time slice for a garnish, unfortunatly. I probably would've done strawberries or papya and mango. I searched Zaar for "Mexican Desserts" and this recipe was the easiest to prepare and had all ingredients on hand; staples. Thanks, Bergy!

 
Tweaks
I couldn't remember the egg to milk ratio since my Mom was visiting my family in Spain again, so it was awesome to find your recipe that is almost exactly how I make it! I use lemon zest instead of orange, and a can of sweetened condensed milk instead of sugar for the flan. Thank you very much, My wife is happy,(She was craving it.)

 

First off, let me say I adore custard. This is an excellent one! It's not too sweet or too rich. I used a scant 1/4 tsp. orange oil instead of rind, as I didn't have any oranges. I think that is actually an improvement, as the oil did not add any texture, and this texture is like silk with both the custard and caramel. I used 2% milk, and that worked fine. It would probably be a bit better with whole milk, however. I used ramekins instead of one large bowl and didn't have enough caramel. It cooled off so very fast, I couldn't get it poured into all the ramekins before I ran out. I suggest doubling the caramel if you want to use individual dishes. The orange flavor is really optional, but it does add a nice touch to this traditional and excellent recipe.

 

I made this dish last night for a family gather. It was fantastic! I used brown sugar for the caramel instead. In the beginning, I thought the sugar might be insufficient but it's okay, not too sweet. The texture is just right. Those who have tried, liked it very much. I for one am head over heels in love with it! Will make again tonight. I'm already overweight but I'm craving for it right now and will start baking once I reached home from work.