Rita1652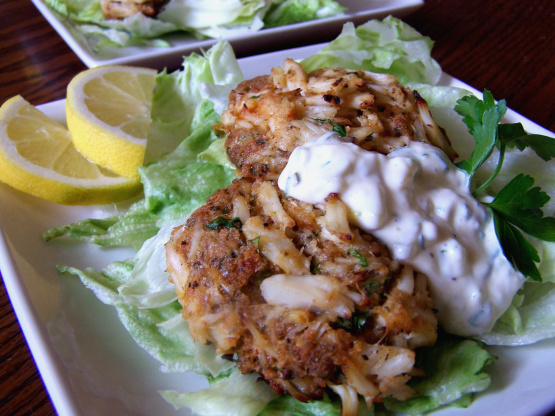 These are fall apart tender! So baking them not just keeps them lower in fat but less chance of falling apart. Use lump crab meat and be sure not to mix it for you want chunks of the sweet tender crab meat.

These were excellent thanks Rita. They held together perfectly and the texture and taste was wonderful. I did work the mixture in my hands until it was well combined though. I made them using crab we caught ourselves and served them with Recipe #303777. The strong lemon flavour of that worked perfectly with the natural sweetness of the crab. I can't get Old Bay seasoning, so Aussies take not, I used the Greek Nostimini seasoning instead and it was very good.
Preheat oven to 375.
Mix all cake ingredients together but crab meat and oil.
Gently toss in crab meat and form 8 patties.
Place on sprayed sheet pan then sprinkle each lightly with olive oil.
Bake for 15 minutes.
Serve on a bed of lettuce with choice Recipe #87124 Recipe #179420 Recipe #120370.