Bagels With Smoked Salmon
twissis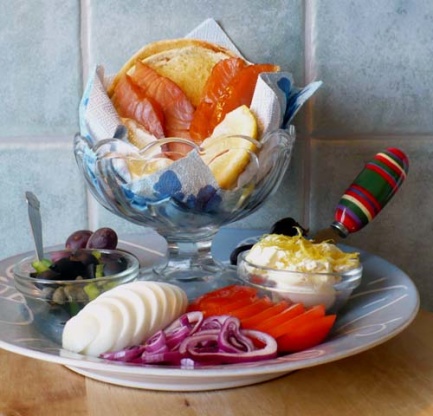 Smoked salmon with warm bagels.

Made for ZWT6 as written & your dandy recipe made this city girl want to catch a plane w/about 5 kilos of smoked salmon & come visit LMF for breakfast w/you, Dennis, Bubba, Dex & the guys. We could take a basket of all the goodies out in the meadow & feast as we watch the sunrise. The next best option was to have breakfast w/Siggi & you should have seen his face. He was not at all sure what to think & maybe a little scared like Nimz would be facing a menacing WOC. We loved it, Andi, & I have named it BOB, aka Bounty on a Bagel. Seriously I have never made a 1 ingredient recipe b4. This recipe is all about Love, Andi, & having enough of it to spare that you take the time to create something special. I think I am starting to ramble on just like you, so it must be time to say thx & go mend a fence or something. :-)
Arrange smoked salmon, thinly sliced, sliced red onions, 2 leaf lettuce, 4 slices tomatoes, hard boiled eggs, lemon and parsley sprigs on a nice pretty plate. Add cream cheese in the middle with spreading knife.
Fill bowls with green and black olives, capers, chopped green onions, thinly sliced green and red peppers for garnish.
Toast bagels, bagels in a basket lined with a cloth napkin.
Optional! Whip cream cheese until soft and fold in chives or dill for spreading on the bread.