Bacon-Wrapped Shrimp With Chunky Tomatillo Salsa and Tomato Vina
FolkDiva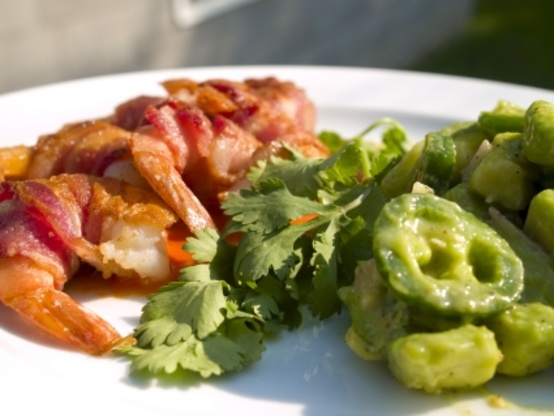 Here is a Southwestern inspired dish from Tyler Florence. Bacon-wrapped shrimp is a delicious combination as it is, but pairing it with the salsa and vinaigrette puts this recipe over-the-top! This shrimp recipe also works well on the grill. Serving it with margaritas and/or beer wouldn't be a bad idea! Note: You can make the salsa and vinaigrette ahead of time and keep refrigerated. You could also prep the shrimp and wrap with bacon ahead of time. That way, it will be a breeze when it comes time for dinner.
First of all I did cut the ingredient amounts in half for the 2 of us, but then I also used only a little more than half of an avocado & about half of one jalapeno, but that was about it, & I was happy enough with the resulting salsa! Very satisfying & enjoyable shrimp dish! [Tagged & made in Please Review My Recipe]
Tomatilla Salsa

6

tomatillos, husked, rinsed and cut in chunks

2

avocados, peeled and cut in chunks

2

jalapenos, cut in circles (remove seeds & ribs if you want it milder)
1⁄2 bunch fresh cilantro, coarsely chopped
1⁄2 red onion, diced

2

tablespoons canola oil
kosher salt & freshly ground black pepper, to taste

Tomato Vinaigrette

1

tomatoes, halved, seeds squeezed out

1

chipotle chile in adobo (one pepper from the can)

1

lime, zest and juice of

1

tablespoon sherry wine vinegar

1

teaspoon sugar
1⁄2 teaspoon sea salt (or kosher)

2

tablespoons canola oil

Shrimp

20

large shrimp, peeled and deveined, tails left on (about 2 pounds)

10

slices bacon, slices halved

2

green onions, thinly sliced on the diagonal, for garnish
chopped fresh cilantro, for garnish
Tomatillo Salsa:.
For the tomatillo salsa, toss the tomatillos, avocados, jalapenos, cilantro and onion together in a large bowl.
Add the lime juice and canola oil, and turn to coat; season with salt and black pepper.
Turn the mixture over a few times until the avocados are slightly mashed and the salsa is creamy.
Cover and refrigerate while you prepare everything else.
Tomato Vinaigrette:.
Puree the tomato, chipotle, garlic, lime zest, lime juice, sherry vinegar, sugar and salt in a blender until smooth.
Pour in the oil and puree again until emulsified and slightly thickened.
Refrigerate.
Shrimp:.
Wrap each shrimp in a piece of bacon, overlapping the ends so they stick together.
Place a large skillet over medium heat, drizzle with a 1/2 count of oil and heat just to the smoking point.
Lay the shrimp in the pan (do this in batches if the pan is crowded) and saute until the bacon is crisp, tossing so the shrimp cook evenly.
To Serve:.
Spoon a mound of the tomatillo salsa on each plate.
Drizzle a pool of the tomato vinaigrette on another area of the plate and top with 5 shrimp (per plate).
Garnish with the green onion and cilantro leaves.