Bacon Wrapped Bnls Pork Chops
David M.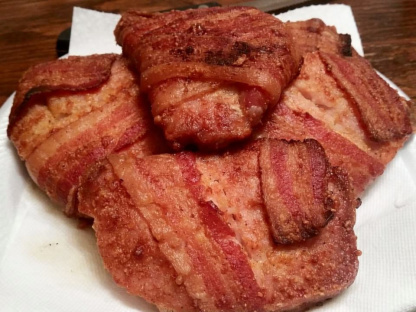 This is a variation of a couple of reciepes found in one of my many low carb cook books, You may want to Broil these at the end if the Bacon is not quite crisp enough for your tastes, Cut the Onion into 1/4 inch slices then in half for slivers, These Chops are real juicy. Enjoy

Normally i coop meals and my husband goes crazy over it. but for the last three months i have only been getting "its ok" out of him and it has been driving me nuts. That was until i made this dish for him and AWWW and WOW!! He looked at me and said: " Sweetie, this one is a winner, you have my permission to make this any time again, man that's good" And so i will. THANK YOU for getting me out of the "its ok" rut. :)
Season Bnls Pork Chops with Salt and Pepper.
Cut Onion into slivers and place on Top of Pork Chops.
Add 1/4 of the Red Pepper Skin side Down.
Cover Red Pepper with Crumbled Brie Cheese and Wrap with 3 Pieces of Bacon, If need be hold Bacon in Place with Toothpicks.
Bake @ 375 for 35 to 45 Minutes.