truebrit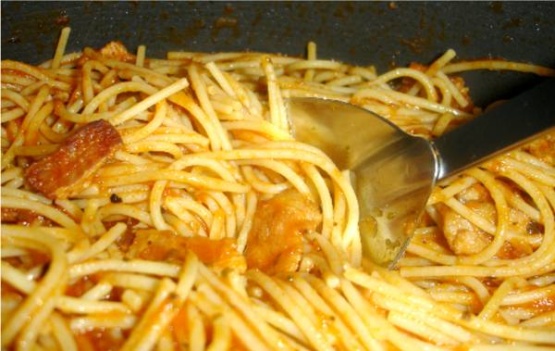 This is a quick, easy and inexpensive meal. Great for a large family on a budget. My family isn't that big anymore but there are rarely leftovers. Enjoy! NOTE: Prep and cooking times as well as servings vary!

Awesome! My son thought I had lost it when I said bacon spaghetti for dinner, lol. He loved! Our grocery had bacon for .99 cents for a 12ozs. It has great flavor just easn't in nice pretty slices. So it worked great for this as it was cut up anyways. I also used diced tomatoes in juice instead of just sauce. Served with parm to sprinkleo n top, salad and bread. However just ok for leftovers for me, the bacon gets too soggy. I ate it anyways ;) Will definately make again.
Cut bacon and onion into small pieces.
Cook in pot or large pan till lightly browned and the onions are tender.
Drain grease.
Add tomato sauce.
*Fill 2 of the 4 cans with water and stir.
transfer water between cans and pour into meat and tomato mixture* Add spices.
Stir well and let simmer for about 30 to 40 minutes.
Cook spagetti according to package directions.
Mix the meat and sauce with the noodles.
Serve with dinner rolls/brown and serve rolls.
NOTE: Makes a large amount.
Can be adjusted to any size.