Bacon Horseradish Cheese Balls (+ 3 Optional Holiday Designs!)
Rita1652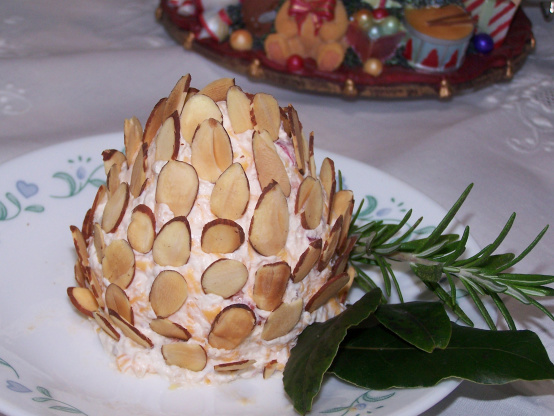 Celebrate your holidays with cheese balls made with bacon and horseradish. Designed as a pine-cone, a wreath or a snow man. Yes you can just shape into a ball. The holidays can be stressful and hard to handle this Holiday Party Appetizers can be made 2 days before being served giving you time to take care of other things. This is easy and no cook if you use the jarred bacon bits. You can make all three with this one recipe or make all balls for gift giving with fabulous crackers.

Top Review by Zurie
This was quick and easy, at a time of year when snacks and appetizers are often needed! I did find that there were too many flavours, but the recipe was made for a contest which required the cook to use a number of listed ingredients, so she probably couldn't get round that problem. The hot sauce plus horseradish was a little over the top. In the end I used more cream cheese. I rolled mine in very finely chopped parsley, which looked nice and didn't really add yet another flavour dimension. Sorry, no photo, there simply wasn't time!! Thanks, chef!!!
29.58

ml sour cream

78.07

ml red onion, minced

14.79

ml Worcestershire sauce

44.37

ml horseradish

4.92

ml garlic, finely minced

4.92

ml liquid smoke (optional)

0.65-0.97

ml hot pepper sauce

56.69-226.79

g cream cheese, softened

226.79

g sharp cheddar cheese, shredded

2

slice bacon, cooked till crisp and crumbled (2 strips Veggie Bacon Strips, cooked till crisp and crumbled ) or 29.58 ml bacon bits (1 ounce 1/3 cup cooked)

Garnish

For Balls

236.59-473.18

ml sliced almonds, toasted

For Pine-cone

almonds, slices

For Wreath

red bell pepper, cut into little pieces for berries

For Snowman

dill sprigs, for arms
carrot, cut for nose
capers, buttons and eyes
whipped cream cheese, softened
Mix the first 7 ingredients.
Combine with cream cheese and fold in cheddar cheese and bacon forming into balls. Roll in nuts. Refrigerate a couple hours or over night.
Serve with crackers or vegetables.
Optional Decorations:.
Pine-cone - Shape into a pine cone and layer almonds slices up.
Wreath - Mound into a circle forming a wreath, by placing a drinking glass in center of serving platter. Drop rounded tablespoonfuls of cheese mixture around glass, just touching outer edge of glass, to form ring; smooth with spatula. Remove glass. Garnish with additional parsley by pressing dried parsley into the cheese. Arrange pieces of red bell peppers in sets of three for the berries and add fresh parsley for the bow.
Snowman - Make 2 balls one slightly smaller then the other. Wrap in plastic and chill till firm. Spread with softened whipped cream cheese using your hand to smooth out and fluff like snow. Decorate as you would a snow man. Dill or rosemary for arms, capers for button and eyes, carrot cut to make a nose and red pepper cut for mouth, scallions for the scarf or use your imagination. Most of all HAVE FUN! And enjoy your guests responses.