Bacon, Egg 'n' Cheese Sandwiches
Juju Bee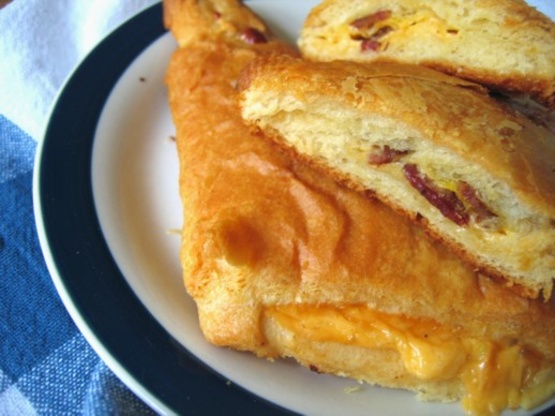 Scrambled eggs, cheddar cheese & bacon in a little crescent roll pocket. Great for beakfast on the go.

These were okay. One problem is that with so much milk added to the eggs and most of it running out of the crescents and onto the cookie sheet these were basically bacon and cheese sandwiches. Maybe with less milk the mixture would stick better in the crescents. Cook time was about 20 minutes for us as well. They reheated pretty well in the toaster oven the next morning.
Preheat oven to 350°F.
Seperate crescent rolls into triangles.
Lay half of the triangles on an ungreased cookie sheet or in a shallow baking pan, and pinch up the edges to make rims around the triangles.
Put cheese slices over dough and trim to fit inside.
Sprinkle bacon over cheese.
Mix eggs and milk together and spoon mixture into triangle shells.
Top with remaining triangles, but don't seal.
Bake for 20-35 minutes.