Baby red potatoes with garlic and parsley
KGCOOK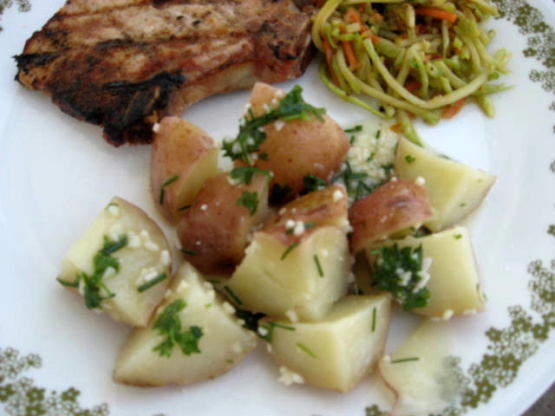 Fantastic side dish, good with just about any entree, and very easy to make.

Very good base if made as is. However, the second time around I added some salt and pepper, onion powder and paprika to the potatoes, as well as approx. 1/2 cup parmesan cheese halfway through cooking time. It was very yummy!!
Preheat oven to 375 degrees.
Grease a 2 quart casserole dish (I use garlic flavour Pam).
Scrub potatoes, chop into halves or quarters, depending on size of potato; place in casserole dish.
Cut butter into pats; place randomly around top of potatoes.
Sprinkle with parsley.
Sprinkle with garlic.
Bake, uncovered, at 375 degrees for about 10 minutes.
Stir; cover; continue baking at 375 for about an hour, or until the potatoes are tender, stirring a couple more times during baking.