kiwidutch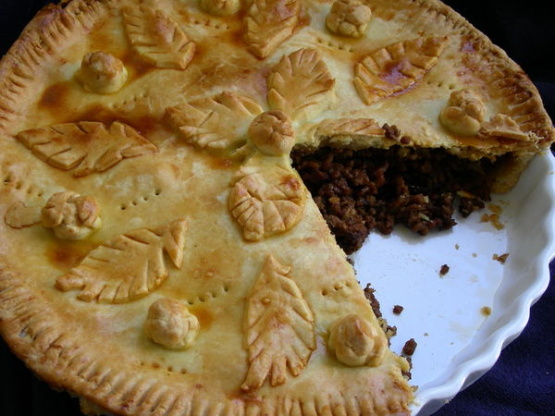 This is The Australian Traditional Meat pie! usually eaten for lunch for just watching the aussie rules footy. You can make 1 big meat pie or more little ones from this recipe!

My boyfriend spent 8 months in Australia studying abroad, and he said that these meat pies were the most authentic tasting ones he had ever had in the states! He tried many times to replicate the traditional aussie meat pies, and this recipe was the one!
Pre-heat oven at 220 degrees Celsius.
Brown meat and onion.
Add 3/4 cup of the water, bouillon cubes, ketchup and Worcestershire sauce, pepper, oregano, and nutmeg.
Boil and cover for 15 minutes.
Blend flour with the remaining 1/4 cup water until it becomes a smooth paste; add to the meat mix.
Let cool.
Grease a pie dish and line with puff pastry.
Add the cooled filling mixture; brush edges of pastry with milk or beaten egg; put the pastry top on; press edges down with a fork.
Trim edges and glaze top with milk or beaten egg.
Bake in a very hot oven, 220 degrees Celsius for 15 minutes.
Reduce heat to 180 degrees Celsius and bake for 25 more minutes, or until golden brown.
Serve with veggies, fries, or salad.