Aunt Martha's Pork Chops Delight
vrvrvr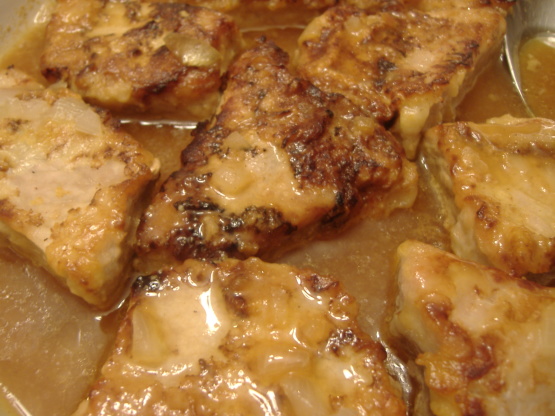 Recipe from Will's Aunt Martha in Huntsville, AL - said it was a favorite of her kids, and we can't wait to try it!

Top Review by vrvrvr
These were great, flavorful chops. I used honey mustard instead of plain yellow mustard. There was a lot of liquid, and I had to strain the onions out of it because they were still crunchy after the short simmer time. (My family is anti-crunchy-onions.) I let the sauce boil a bit to reduce it. The result was a delicious chop dish! Thanks for posting this.
Season flour with salt and pepper.
Spread mustard on chops and dredge in flour.
Heat a skillet on med high, and melt butter.
Brown chops in butter on both sides for 2 minutes.
Add onion and broth and cover, simmer 10 minutes.