Derf2440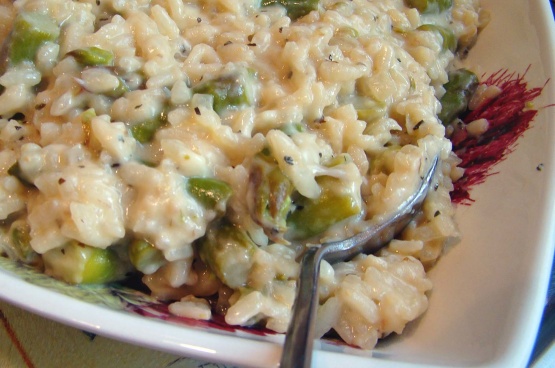 This is a terrific dish, and by adding the asparagus late it stays firm, not soggy.

Pretty good. Just a few comments. The stock amounts are a bit low. And I find having the stock on the back stove burner on low heat helps. Put an extra cup or two of stock in the pan and like all other risotto, just stop adding when done.<br/>I also didn't like adding the asparagus with the 1st stock addition. Too long a time cooking asparagus and too rough on it with the constant stirring. I just roasted it earlier in the day and cut it and added it with the cream and basil. <br/>The final dish was very good.
Melt the butter in the pan and add the onions on medium-low heat.
Cook for 4 minutes, then add the garlic.
Cook for 1 minute, then add the rice.
Stir until well coated.
Add 1/2 cup of stock to the rice, stirring until absorbed.
Then add the asparagus.
Continue adding the stock in 1/2 cup increments, stirring after each addition until the stock has been absorbed.
(Should take about 20-25 minutes.) Add the cream, cheese, and basil stirring gently to combine.