Asparagus Chicken With Black Bean Sauce
BarbryT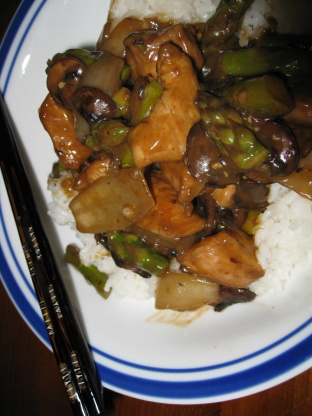 This is a very tasty family favourite that I've slightly modified from the original which came from a great cookbook called Thai Cooking and More. NOTE #1 Just so there's no confusion, this recipe uses a prepared Chinese Black Bean Sauce, NOT your regular black beans. This can be found with the ethnic foods at your local grocer, usually where you find soy sauce, etc. This is also where you'll find the hot chili paste; my preference is Sombel Oelek NOTE #2 Prep time includes 30 minute marinating time.

It was delicious!!! I used chicken leg quarters (chopped into 8 pieces) instead of chicken breast because that's all I had. I had to cook it a bit longer though but still really yummy. The only other thing I did differently was use powdered ginger instead of fresh b/c I was too lazy to grate it.
For marinade: Combine 2 teaspoons cornstarch, 2 teaspoons soy sauce, sherry and sesame oil in a large bowl; mix well.
Add chicken; stir to coat well. Let stand 30 minutes.
Combine black bean sauce, hot chili paste, ginger and garlic; set aside.
Combine remaining 3 teaspoons cornstarch, remaining 2 teaspoons soy sauce, chicken broth and oyster sauce in a small bowl; mix well. Set aside.
Peel onion, cut into 8 wedges. Separate wedges; set aside.
Heat 2 tablespoons vegetable oil in a wok or large skillet over high heat.
Add chicken; stir-fry until cooked through, about 3 minutes. Remove chicken from wok; set aside.
Heat remaining 1 tablespoon vegetable oil in wok.
Add onion and asparagus; stir-fry 30 seconds.
Add water and cover.
Cook, stirring occasionally, until asparagus is crisp-tender, about two minutes.
Return chicken to wok.
Stir chicken broth mixture; add to wok with black bean mixture.
Cook until sauce boils and thickens, stirring occasionally.
Serve over or with rice.