Asian Style Barbecue Pork Loin Sirloin Chops
lbaar90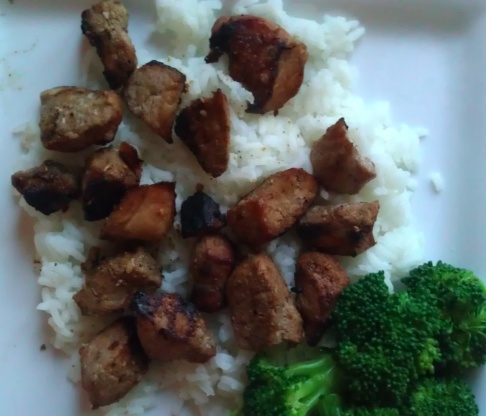 This sauce is great on pork or chicken and makes a healthier marinade for great tastiing Korean Barbecue! My husband is asian and was born in Hawaii and this is a favorite local dish. Amazing flavor!!

Top Review by amdh86
It's a decent recipe, but I agree with the previous review that the amount of liquid smoke must be a mistake. I used a fourth of the amount it called for and it still seemed like too much to me. If I made it again I would probably leave out the liquid smoke altogether.
Mix the marinade together. *For lower sodium, use reduced sodium soy sauce, or light soy sauce.
Trim all fat from boneless pork loin sirloin chops and cut into 1/3 to 2 inch pieces.
Place meat in a baking dish and pour marinade over top. Cover and refrigerate for up to 2 hours.
Heat a grill or a george foreman. Coat with cooking spray.
Remove pork from marinade; place on grill. (Discard excess marinade.).
Reduce heat to medium; cook, turning occasionally, until pork is no longer pink and internal temperature is 160°F 10 to 18 minutes.
Serve over hot rice with steamed broccoli.